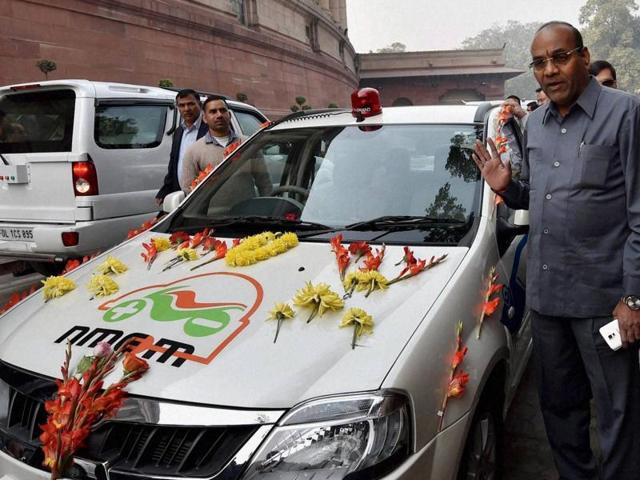 Heavy industries minister Geete takes his new electric car to House
Sporting brand new cars is a common sight in political circles. But Union heavy industries minister Anant Geete did that with a message on Tuesday.
UPDATED ON DEC 23, 2015 10:55 AM IST
Union minister for heavy industries and public enterprises Anant Geete arrived in Parliament in a swanky electric powered sedan that he said was aimed at spreading awareness on pollution which has reached alarming levels in the Capital, prompting authorities to introduce radical measures to clean the air.
"I have hired the car for Rs15,000 per month," Geete said. His new hired car came just a day after Prime Minister Narendra Modi gifted a battery-operated bus to the Lok Sabha for the use of its MPs.
The heavy industries minister got the first car of the yet-to-be-released Mahindra Verito electric version.
Asked if his gesture was also leading to promotion for the brand, Geete said, "Government has a clear policy for all car manufacturers to build electric, zero-emission cars. So far there is just one company which has made such a car. Tomorrow, if any other company makes an electric car, I will use that as well."
Close to whereas miling Geete parked his car and even called some of his ministerial colleagues to appreciate his gesture stood three new bicycles. Flashing green and saffron nameplates, they belonged to three BJP MPs: Krishna Raj, a firsttimer woman MP, Arjun Ram Meghwal, the party's chief whip in Lok Sabha, and Mansukh Mandavia.
"I have been using the bike since April. My other colleagues have been riding these for five-six days. I wish more MPs become eco friendly," Meghwal told HT.
Earlier, UP A minister Veerappa Moily took the Metro to commute to office while fellow Congressman Jairam Ramesh often walks to his Lodhi Road residence from Parliament.
Asked if he felt scared riding a bike on Delhi roads, Meghwal said, "Yes, at times I feel scared seeing how buses are driven recklessly. I have requested Delhi police to allot a separate lane for cyclists."
Parliament has a car-pool facility for MPs but most of them prefer their own vehicles.
Close