Ola-Uber strike Day 3: Commuters face the heat, aggregator opts for surge pricing
Updated on Feb 12, 2017 11:21 PM IST
The strike by drivers of cab aggregators for increase in fares entered the second day. There were reports of cabs being stropped by protesters across the Capital.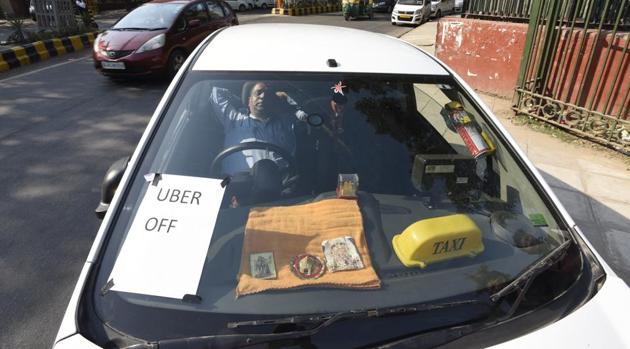 Commuting within Delhi-NCR was hit for the second day straight as drivers of mobile-based cab aggregators continued their strike against Ola and Uber.
Scores of commuters were stranded on Saturday as their mobile applications for availing these services refused to show any available cabs. "I have an Ola Share pass which lets me travel anywhere up to 8 kms for flat Rs 40. I use these cabs daily to travel to and from Metro stations. But I couldn't get a single cab in the last two days. Auto-rickshaws charged me Rs 70 for the same distance," said Reeta Prasad, a resident of Pocket A, Mayur Vihar Phase 3 and travels to New Ashok Nagar Metro station on a daily basis.
A number of passengers who either had to board a flight or train or had just arrived in the city were left stumped by the sudden disappearance of Ola-Uber cabs. "I tried booking for 20 minutes. But later took a kaali-peeli taxi from the airport," said Sajid Ahmed, whose flight from Mumbai landed in the city on Saturday afternoon.
Reports of cab drivers being stopped by protesting drivers came in from across NCR, affecting the few passengers who could avail the service. The drivers are demanding that fares for the rides should be increased from Rs 6 per kilometer, which is far lower than Rs 16 per km (for air-conditioned cabs) — the minimum fare prescribed by the Delhi government for radio taxis. A reduction in incentives for drivers has further irked them.
The protest has led to a massive shortage of cabs in the city due to which cab aggregators have enforced surge pricing. Ola even sent a notification to all its users that reads, "Please be advised that due to the local strike cabs will be subject to availability." The cab aggregator has also temporarily removed the share option from the mobile app and is instead requesting users to consider using Ola Auto service.
"I am one of those unfortunate ones who works on a Saturday and I got late. Offering such cheap rates, I realised how dependent I have become on them. The government must think of its own alternative to provide better transport," said Akshay Sharma, a resident of Amar Colony in Lajpat Nagar.
While Ola refused to comment on the strike, Uber said that the number of cabs plying in Delhi-NCR increased marginally. "The situation has improved now. A small group of people are disrupting the Uber service in parts of Delhi, and there have been isolated reports of threats and intimidation. We are working hard to ensure reliable rides are available for everyone and we can keep the city moving," an Uber spokesperson said.
Personalise your news feed. Follow trending topics