This day, that year: Delhi's JNU quiet, bears no trace of 'anti-national' tumult
Feb 09, 2017 11:31 PM IST
The JNU campus remained peaceful with no protests or events to mark a year since the day when some students had allegedly raised anti-national slogans in support of Afzal Guru.
It was business as usual at Jawaharlal Nehru University on Thursday, a year after some students allegedly raised anti-national slogans at the campus during an event held to commemorate hanging of Parliament attack convict Afzal Guru. Academic issues are now at the centre stage in the university with a section of students holding protest on Thursday at the Administration Building over new admission policy.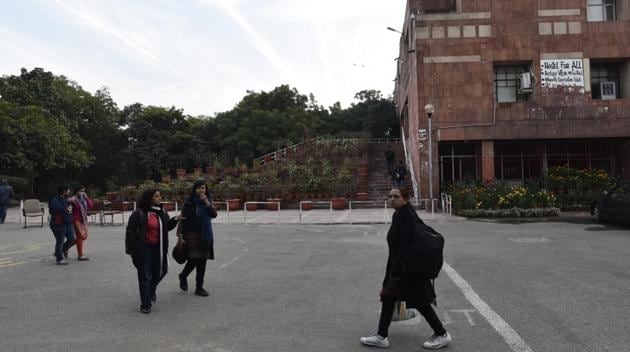 The university, however, remained calm with no talks, events or public lectures on the issue scheduled in the campus. The only organised protest on Thursday was by JNU students' union over academic issues. The university administration said they had not received any requests for event or talk except one by Akhil Bharatiya Vidyarthi Parishad (ABVP) for "nationalism lecture" which was denied.
"In the interest of peace and harmony on a crucial day, the programme may be postponed," officials said while denying permission to the ABVP to hold a an event on Thursday. "We have not received any other request by any student group to hold any event on campus on February 9. We are being cautious as there is need to maintain calm on campus," an official said.
However, a group of students held a symbolic protest against the pellet gun attack on people in Kashmir. Tying white bandage stained with red blood around their head and eyes the students gathered at the administrative block. The protesting students also carried photos of children injured by pellet guns.
The event held on February 9, 2016 by a small group of students led to charges of sedition being slapped on some students and arrest of three, including the then JNUSU president Kanhaiya Kumar.
The university was branded as anti-national with many advocating to shut it down. This further prompted teachers and students to protest.
This entire year saw a slew of protests starting from the February 9 incident, to the missing student Najeeb Ahmed and against changes in admission policy as per UGC guidelines.
On Thursday, students led by JNUSU met admission director Milap Punia to tell him about a referendum on the new policy. They said over 98% JNU students had voted against the new policies.
"Students from each centre in JNU will ask the V-C. Who is going to apply for this year's admission when there is zero admission in JNU?," said Satarupa Chakraborty, general secretary JNUSU.
JNU has over 8,000 students. "A total of 3,455 students participated in the referendum and 98.35% of them voted against the gazette," a JNUSU statement said.
Following protests by students, the university had decided to take entrance test in two parts with part one being an objective type paper, in which students will have to secure 50%, after which their second paper will be evaluated.
"Eighty per cent weightage will be given to the marks secured in the second paper, which will be descriptive, and 20% weightage will be given to viva. This way we will continue with our own admission policy while following the UGC framework," an official said.
Reacting to the referendum, officials said policies are not decided based on referendum. "Misinformation on questionable referendum on May 2016 UGC gazette abound. Two-thirds of JNU students did not participate in voting," said Rana P Singh, dean of students.