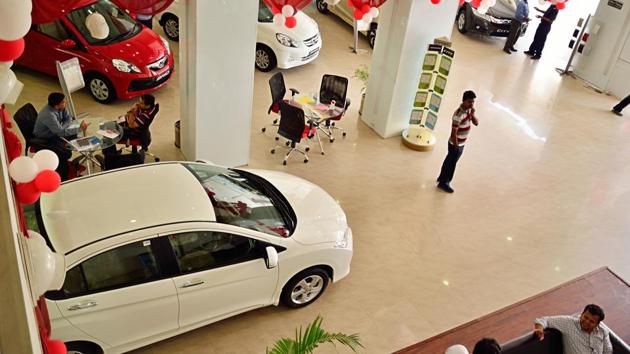 Vehicle registrations in Capital hit eight year low in December 2016
Experts said Decembers usually is a slow month when it came to sale of automobiles, with the ongoing demonetisation exercise helping in amplifying the lull.
PUBLISHED ON JAN 16, 2017 12:03 AM IST
December 2016 witnessed the lowest vehicle registrations in the Capital in the last eight years, with just over 25,000 vehicles being registered during the month.
Experts said Decembers usually is a slow month when it came to sale of automobiles, with the ongoing demonetisation exercise helping in amplifying the lull.
Government reports indicate that from 80,191 in October last year, registrations dipped to 63,548 in November. The sales further sharply declined in December when the figure stood at a mere 25,809.
Transport officials said demonetisation has had a significant role to play in the dip, as most Delhiites paid at least some amount in cash when they bought a car. "Until late December, all Motor Licensing Offices (MLO) used to run 100% on cash. The currency ban suspended a host of transactions as people either didn't have money or were saving whatever little they had," a licensing officer of one of the 14 MLOs of Delhi said.
Another MLO said cars aren't something that are generally bought with cash. It was the "market sentiment" rather which had reduced the sale of vehicles. "People just didn't want to spend big as they were skeptical and wanted to save," he said. Now that point of sale devices are being installed at all the offices, the department is hoping its revenue collection will improve.
The decrease in car registrations was welcomed by activists, who said the slump will give Delhi, which adds around 1,400 new vehicles on its roads on a daily basis, some breathing space.
December last year witnessed the least number of transactions in the entire year, sources in the state transport department said.
There were only 2,92,751 transactions in December against 4,76,496 in October last year. The monthly revenue collection too dipped from Rs 176.95 crore to Rs 116.32 crore during the same period.
Experts say most buyers tend to postpone buying a new car to New Year, making December one of the slowest months for car sales.
For the same reason, companies tend to lure buyers with attractive discounts and offers during this period. "Once December comes, people wait for new model of cars to be rolled out in the next year as value of old models goes down. So companies tend to go slow in manufacturing new cars too. But this year, because of demonetisation, companies were piled up with inventories of more than one month," said Vishnu Mathur, director general, Society of Indian Automobile Manufacturers (SIAM).
A recent report released by SIAM stated that sales of two-wheelers too slid 22 per cent in December 2016 compared to the figure in December 2015, marking the highest monthly contraction since the organization started recording data in 1997. "Scooters and motorcycles account for almost 75 per cent of total vehicle sales and are a significant indicator of rural demand. It's only in the rural area that propensity for cash sales continues to be quite high," Mathur said.
He added that the decline in automobile sales may only be temporary and January would be the real test. "The industry is gradually recovering and trends of this month would show if the impact of demonetisation is still there or not," he said.
(ENDS)
Close