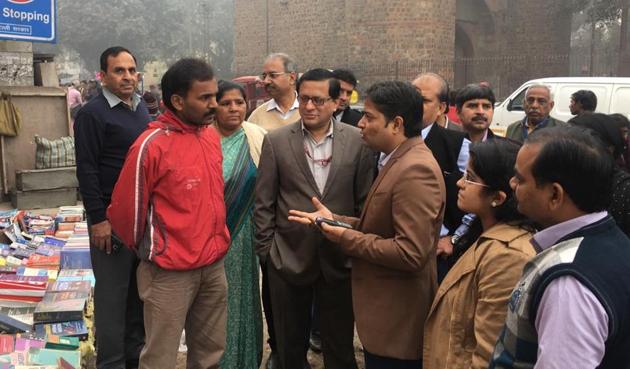 How to use card-swipe machines: Daryaganj book vendors take lessons from NDMC
Accompanied by the banking staff, the corporation officials went around persuading vendors to pay their tehbazari or license fee through card swipe machines
UPDATED ON DEC 26, 2016 07:46 AM IST
The vendors at the weekly book market in Daryaganj had an unusually busy Sunday morning. Amid handling buyers haggling for a good discount on second-hand books, they also had to lend an ear to the officials from the North Delhi Municipal Corporation convincing them to go digital.
Accompanied by the banking staff, the corporation officials went around persuading vendors to pay their tehbazari or license fee through card swipe machines, which the officials brought along. The officials also asked the vendors to use swipe machines for their transactions.
Mohammed Habib, 50, who has been putting up his stall at the market for the past 20 years, was among the first few to use the machine. He submitted the licence fee through his debit card. "The facility will help establish transparency and maintenance of records," he said.
The drive was carried on a pilot basis to see the vendors' response to going cashless. "We received an overwhelming response. Despite dip in sales, they were cooperative and eager to make payments through credit/debit and other e-wallets. Our staff and banking people educated them about various modes of digital and online payments," said a senior civic official.
Read: Demonetisation is immoral, theft of people's property: Steve Forbes
The officials will visit the market again next week.
According to the official, based on the feedback received from the weekly market, the corporation will try introducing hand-held swiping machines at 150 such markets.
"The cashless system would save the vendors from harassment. Also, the card swiping machines are GPRS-based so the collecting points can be easily verified," said the official.
The details of the payments collected would be sent to senior officials every day.
The North MCD has installed the machines at five hospitals and six citizen service bureaus.
As part of its efforts to promote digital payments after demonetisation, the South Delhi Municipal Corporation has already achieved success is making majority of its services digital/online. "While house tax collection has moved online, for rest 0.7% of collection received in cash, arrangements are being made by installing swiping machines," said a senior SDMC official.
Read: Demonetisation windfall: Civic agencies record 268% increase in tax collection
SDMC has installed 17 card swiping machines at all zonal offices of the Assessment and Collection Department and Citizen's Service Bureaus. "We have also formulated an action plan to turn our present system of collection to a cashless one with the help of swiping machines," Puneet Goel, SDMC commissioner.
Close