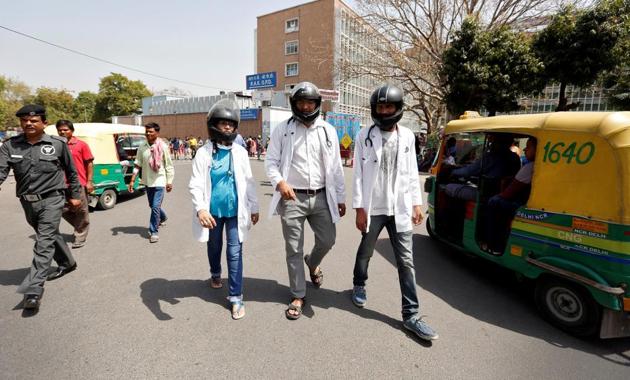 More than Taekwondo lessons, doctors on duty need State protection
A report says three in four Indian doctors face violence from patients – the government needs to come to their rescue
UPDATED ON MAY 04, 2017 02:15 PM IST
Concerned over rising violence against them 1,500 resident doctors from All India Institute of Medical Sciences have decided to learn taekwondo so that they are equipped to defend themselves.
A study by the Indian Medical Association (IMA) suggests more than 75% doctors in the country have experienced some form of violence while on duty. Although attacks on doctors, nurses, and hospital staff in India are not new, of late their frequency and brutality has assumed frightening proportions. On May 3rd, taking note of the incidents, the Delhi high court sought a report from the Centre and the AAP government on provision of security to the doctors, nurses and staff in public hospitals in the Capital, within 10 days.
All talk about a central law to protect doctors is up in the air. The Doctors Protection Act 2010 is in force in just 19 Indian states but implementation remains lax. The police register FIRs but hardly ever arrest relatives of patients who've resorted to violence against doctors. In Maharashtra, a brutal attack on an orthopaedic doctor by more than 20 relatives left him with loss in vision. A few days later, a doctor in Mumbai was beaten up by relatives of a 60-year-old patient who had died of a kidney disease. In March, after three incidents of violence in three days, more than 3,000 resident doctors went in Maharashtra on strike for five days. Expressing solidarity with them, their colleagues in Delhi wore helmets while attending to patients.
A 2014 article titled 'Violence against doctors in India' published in The Lancet mentioned delays in attending to patients, seeking hefty advance payments, withholding a deceased's body until settlement of bills and unethical practices among the reasons that provoke relatives to attack doctors. More than anything, the disturbing trend reflects the lack of trust in the medical profession among patients. While the doctors on duty need to inculcate soft skills that will help them emphathise with the patient and their families, the government should ensure there is adequate security to control any incidence of violence owing to frayed tempers.
Close