The attack on China's consulate is more about Balochistan
Nov 26, 2018 12:08 PM IST
Balochistan is experiencing its fifth wave of rebellion against the Pakistani government since Independence
India has joined other countries in condemning the militant attack on the Chinese consulate in Karachi. New Delhi has termed it as a terror attack. However, the Baloch Liberation Army (BLA), which has claimed credit for the attack, is not recognised as a terrorist organisation by India. The BLA had recently attempted to blow up a busload of Chinese workers. Other Baloch groups have also targeted the increasing Chinese presence in their province. The rival Baloch Liberation Front, for example, has carried out attacks against a number of Chinese construction projects.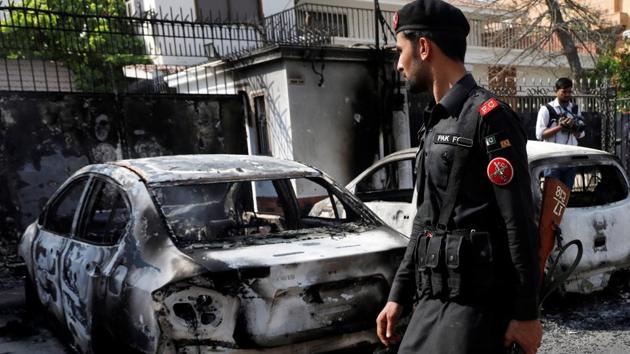 The real issue is not terrorism, or even China's controversial China-Pakistan Economic Corridor. The source of the problem is Islamabad's decades of repression and marginalisation of the Baloch. Balochistan is experiencing its fifth wave of rebellion against the Pakistani government since Independence. The present rebellion has been no more successful than any previous insurgency. However there are three new elements to the Baloch rebellion that should be noted. One, the insurgency has expanded in terms of its tribal base but also begun attracting a new urbanised, de-tribalised Baloch. Two, the Baloch nationalist narrative today merges resentment against Islamabad with the massive Chinese economic presence in their province. The Chinese mining and infrastructure projects are portrayed as a new effort to deprive the Baloch of their natural resource wealth and flood their province with outsiders. There is truth in both these claims, enough to make it difficult for the Chinese to claim otherwise. Finally, though the mainstream Baloch insurgent groups retain a secular nationalist outlook, some have become Islamicised and may eventually colour the future nature of the conflict. With Balochistan also becoming a battleground for the dirty trick departments of Saudi Arabia, Afghanistan and Iran, ideological extremism will become increasingly important.
China has claimed its investments will help make the Baloch and their province more prosperous. Almost two-thirds of the CPEC's total outlay is being spent in Balochistan. This may prove to be the case, but so long as thousands of Chinese workers and Pakistani soldiers are the human face of the corridor it will be seen as instrument of oppression. A sustainable solution would be for Beijing to persuade Islamabad to provide Balochistan greater political autonomy, giving the Baloch a greater say in how and where outside investments take place. There is no sign that sort of empowerment is on the cards. Which is why the Chinese should brace themselves for a backlash that will become increasingly violent and, eventually, extract a human cost Beijing may find unpalatable for its own public.