The roots of the wrestling crisis
Jan 19, 2023 07:47 PM IST
An unprecedented stir by top players points to a culture of impunity in the federation. Fix this
An unprecedented rebellion by some of the country's top wrestlers against the Wrestling Federation of India (WFI) and the allegedly dictatorial tendencies of its boss, Brij Bhushan Sharan Singh, has put the spotlight back on the culture of impunity that has come to characterise sport administration in India. Tokyo Olympics bronze medallist Bajrang Punia, Rio Olympics bronze medallist Sakshi Malik, and two-time world championships medallist Vinesh Phogat led a group of around 30 wrestlers in a sit-in at Jantar Mantar. They demanded the immediate removal of Mr Singh, also a Bharatiya Janata Party MP, to save wrestling. The athletes alleged that Mr Singh, who is in his third term as WFI chief, ran the body as a fiefdom, sexually harassed some players, and used abusive language. Ms Phogat said she was "mentally tortured" after the Tokyo Olympics, where she lost in the quarterfinals, and received death threats from the federation. She alleged women players were sexually exploited at the national camp, and was backed up by Ms Malik.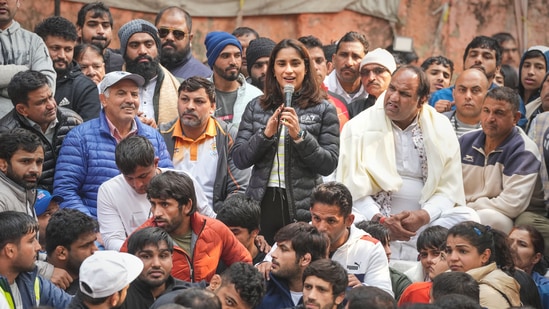 Mr Singh has termed the allegations a conspiracy, and the government has moved quickly to assuage the concerns expressed by the players. The charges against Mr Singh — especially those of sexually harassing and abusing women players — are serious, and they deserve thorough investigation, preferably by a professional agency or law-enforcement. The authorities would do well to enlist senior players, men and women, to instil confidence in younger athletes, and dispel the air of sexism and chauvinism that appears to pervade the body's functioning. In a country where women face formidable barriers in pursuing sport, the apprehension of abuse can deter talented players and make families reluctant to send young women to camps and meets. Swift and transparent action will be necessary to reverse this.
Beyond this, the sordid episode underlines the problems plaguing Indian sport, where a handful of politically connected administrators have run federations despite indifferent results and complaints from players, using their influence to stymie any dissent. The 2011 national sports code attempted to change this by bringing in regulations for good governance. But its implementation has been less than satisfactory, and in some cases, has seen the emergence of a new class of administrators. This crisis should precipitate a good-faith effort at cleaning house and putting the focus back on the players and their well-being. Wrestling is India's most successful individual Olympic sport. It deserves better.
Enjoy unlimited digital access with HT Premium
Subscribe Now to continue reading