How big data is giving big profits to companies
Jul 01, 2015 08:26 PM IST
Big data is watching you! Each time you go to a website, every minute you spend on the Internet, you are being monitored. In fact, a huge amount of data is captured and analysed every second.
Big data is watching you! Each time you go to a website, every minute you spend on the Internet, you are being monitored. In fact, a huge amount of data is captured and analysed every second.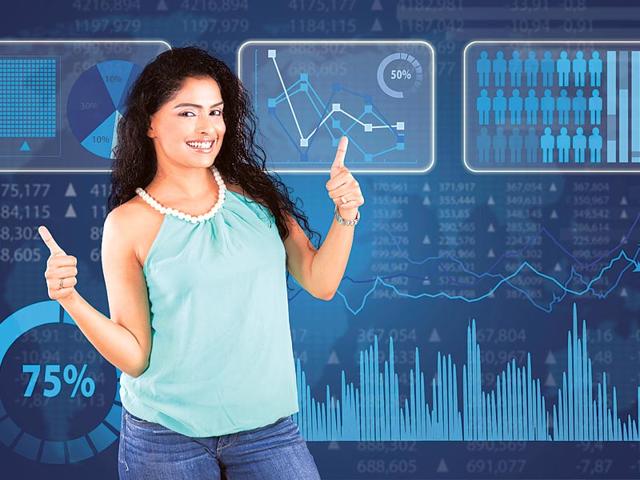 According to Big Data - The Next Big Thing, a joint report by NASSCOM and CRISIL Global Research and Analytics, "The Indian Big Data industry is expected to grow from US$200 million in 2012 to US$1 billion in 2015 at a CAGR of 83%... In India, Big Data analytics and related IT services will create an estimated 15,000 to 20,000 specialist jobs by 2015."
As more companies start relying on consumer activities to generate tailored advertisements for them, the market is all set to grow.
"There will be huge demand for qualified data scientists in the coming two to three years. Health care, manufacturing, insurance and banking sectors will be among the top recruiters," says Prof Sobhan Babu, computer science department, IIT Hyderabad.
The upcoming digital era will be largely driven by insights from your activities in the social media platforms, mobile devices and internet of things.
"A data analyst's role can span the entire life cycle of data. If every bite of data had a life, then principally a data analyst could be involved at every touch point within this life. This means looking at work right from a computer engineer's perspective of data management (structured and unstructured data), to data quality, governance, data warehousing and finally reporting and visualisation solutions, to a statistician's perspective of data models and predictive methodologies and tools, to finally a business owner's perspective of making sense of the various data points and drawing relationships between them to arrive at inferences and actions," says Shahvir Irani, analytics advisor associate manager, operations at Accenture in India.
"Data equity is becoming even more important than brand equity. Companies can use data analysts to leverage this data equity and help impact revenue, cost and customer experience," says Ajay Kelkar, co-promoter and chief operating officer, Hansa Cequity.
So, what are the skills that employers are looking for? This career is a good fit for technically- savvy people with good analytical skills. They should have strong observational skills. Graduates should ideally have a background in either engineering or a computer sciences.
"Most importantly, we seek graduates with an aptitude for analytical problem solving, to be able to look at the big picture, think out-of-the-box and arrive at logical solutions," says Parag Pande, managing director for human resources, Accenture, India.
To add to the shortage of trained professionals is the "shortage of tailored courses in the field of data analytics. Most undergraduate and post graduate programmes are too generic in their structure to train students for the big data industry," says Prof (Dr) Bheemarjuna Reddy Tamma, HOD, department of computer science and engineering, IIT Hyderabad.
Several institutes have come up with aligned programmes for training manpower in the field. The postgraduate diploma in business analytics jointly offered by IIM Calcutta, IIT Kharagpur, and ISI Kolkata is a step in this direction.
Similarly, IISC Bangalore is also conducting public lectures for educating people on big data.
The department of computer science and engineering at IIT Hyderabad is launching MTech in data science for industry professionals from August 2015. Among private players, Great Lakes Institute of Management has been offering a post graduate programme in business analytics since 2013, an executive programme for working professionals.
"We have seen several people taking the course transitioning their profiles to analytics roles in consulting, technology, telecom, e-commerce and financial companies. Candidates with less than five years of experience typically begin at a business analyst or senior analyst level and the salaries offered would be in the range of Rs. 6 lakh to Rs. 10 lakh per year," says Dr P K Vishwanathan, professor (analytics), director, PGPBABI, Great Lakes Institute of Management.
"You get to meet brilliant people who have lots of innovative ideas. Some of them have very unique business models. You get to learn a lot and you can apply that learning in your day to day problem solving tasks," says Clarence Wong, alumni of the institute.

Path finder
# Demand growth - Big Data analytics and related IT services will create about 15,000 to 20,000 specialist jobs by 2015
# Basic requirements - Tech savvy people with good analytical and observational skills, with a background in engineering or computer science are best suited
# Salary range - Freshers can expect a package of Rs. 6 lakh to Rs. 10 lakh per annum