School bags may take time to shed weight in Gurugram
The Union ministry of human resources and development (MHRD) had sent a circular to all states and Union Territories last week, directing them to put in place guidelines, fixing the weight of school bags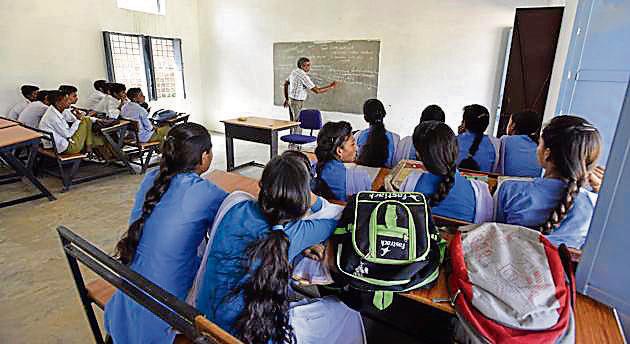 Published on Dec 04, 2018 10:07 AM IST
Hindustan Times, Gurugram | By Sadia Akhtar
Gurugram While the Delhi government on Saturday fixed the weight of school bags for students of different classes, the wait in Haryana might be longer, with the department of education having no immediate plans of formulating similar guidelines.
The Union ministry of human resources and development (MHRD) had sent a circular to all states and Union Territories last week, directing them to put in place guidelines, fixing the weight of school bags. According to the circular, weight of school bags of classes 1 and 2 students shall not exceed 1.5 kilograms. The allowed weight of school bags for classes 3 to 5 is 2-3kg, for classes 6 to 7 is 4kg, for classes 8 to 9 is 4.5kg and for class 10 is 5kg.
In the absence of state guidelines that specify the weight of school bags, parents of schoolchildren said that there is little hope of schools following the recent directive issued by the MHRD. Parents called for specific guidelines whose enforcement could be monitored.
"My son studies in class 2 in a private school, whereas my daughter goes to a government school. Both of them carry heavy bags that weigh between 6 and 7 kgs. Children get extremely tired by the time they return home. There are no rules in place currently and the guidelines would help," said Pooja, who goes by her first name.
While some schools have their own way of ensuring that children are not overburdened by the weight of bags, others said that government enforcement could possibly lead to a concrete change in the situation.
"We have received feedback from parents that bags shouldn't be heavy and we have already made efforts towards implementing the same. School bags of our students don't weigh more than 2-2.5 kg. However, these guidelines should be made official so that all schools would be bound to adhere to them," said Nidhi Kapoor, principal of Euro International School, Sector 10.
Other schools said that they are already taking steps to reduce the burden of school bags. "In primary classes, students do not have any prescribed textbook and the stationery is kept in school, due to which children are not required to carry heavy bags," said YK Sindwani, head, Lancers International School, DLF-5.
Chandan Dhawan, principal, Blue Bells Model School, Sector 4, welcomed the MHRD notification. "Guidelines seeking regulation of weight of school bags are a welcome gesture. However, the module suggested by the ministry is already being adhered to in our school," said Dhawan.
Parents said that similar guidelines in the past had failed in the absence of state enforcement, and the same is bound to happen again.
"I see children wilting under the weight of heavy school bags. Schools rarely implement these guidelines. Moreover, schools in Haryana are not regulated by the government. There's no way of ensuring that these guidelines are followed. Schools pass the baton to the government, but why can't they act by themselves? The absence of state guidelines cannot be an excuse," said Tripti Singh, mother of two school-going children.
The Haryana education department, on the other hand, said it had not received any guidelines from the MHRD. "We haven't received any directive or guideline on fixing the weight of schools bags from the ministry. So far, we have one policy in place, under which class 1 students in two schools per district are not required to carry books to school," said Premlata Yadav, district elementary education officer.
Close Story