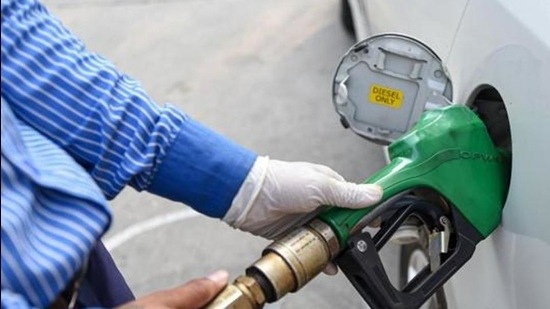 Ahead of polls, Assam cuts fuel prices by
₹

5, duty on liquor by 25%

Presenting a vote-in-account for six months, finance minister Himanta Biswa Sarma told the Assam assembly that the move will result in losses of nearly

₹

80 crore per month

UPDATED ON FEB 12, 2021 02:40 PM IST
Ahead of assembly elections, the Assam government has decided to reduce prices of petrol and diesel in the state by ₹5 per litre from Friday midnight, making the fuels among the least costly in the country
Presenting a vote-in-account for six months, finance minister Himanta Biswa Sarma told the Assam assembly that the move will result in losses of nearly ₹80 crore per month.
"When the Covid-19 pandemic was at its peak, we had increased taxes on petrol and diesel. With the Covid-19 situation improving and the additional burden on the health sector reducing, the state Cabinet has decided to withdraw the additional taxes on these fuels," Sarma said.
"Effective from Friday midnight, prices of petrol and diesel will decrease by ₹5 per litre. As a result, Assam will have the record of having the least costly petrol prices in the country after Gujarat. Even prices of diesel would be the lowest after Himachal Pradesh, Haryana and Uttar Pradesh," he claimed.
Also Read | Fuel prices hiked for fourth straight day, petrol reaches record high in Delhi
Price of petrol in Assam is Rs90.41/litre at present. With the reduction, it will come down to ₹85.41/litre, which will be the lowest after Gujarat where the petrol price is ₹85.30 per litre.
The reduction will bring down diesel price to ₹79.29/litre from the existing ₹84.29. States like Himachal Pradesh ( ₹77.89/litre) and Harayana ( ₹79.07/litre) have lower prices of the fuel.
Sarma said that additional taxes of 25% imposed on liquor products at the peak of Covid-19 pandemic will also be withdrawn.
"Since these additional taxes were imposed because of Covid-19, ethically it would be wrong to continue to charge these taxes as the pandemic situation has improved vastly," said Sarma.
Reacting to the government decision, the Opposition Congress said that reduction in prices is actually a roll-back of the additional taxes the state government had levied in the name of Covid-19.
"The government is trying to give an impression that it is doing the public a big favour, but it is not. Announcement of schemes without necessary budget allocation is incorrect. The government is making Assamese people dependent on doles instead of making them economically independent," said Congress legislature party leader Debabrata Saikia.
Meanwhile, Sarma stated that allowances under Orunodoi scheme, which gives Rs830 every month to nearly 2.2 million families, would gradually be increased to Rs3,000 per month.
He added that minimum daily wages of tea-garden workers would be increased by February 20. Nine new cancer hospitals would become functional across the state from September, the minister said.
Sarma listed the various achievements of the Bharatiya Janata Party-led coalition government in the past five years, including several social welfare schemes launched for different sections.
"Assam's growth rate is more than the national average these days. From 2016-17 to 2019-20, GDP growth in the state was 7.71%. During that period, the national GDP growth rate was 6.11%," he said.
The minister informed that annual per capita income in Assam has increased from Rs66,330 in 2016-17 to Rs90,692 in 2019-20.
Assembly polls in Assam are due in April-May.
Close