'Provocative speeches to mislead people': Kharge attacks PM Modi over poll pitch
Updated on Nov 28, 2022 04:46 PM IST
Congress president Mallikarjun Kharge asked why PM Modi didn't talk about his own achievements since he and the BJP have been in power for nearly 27 years in the state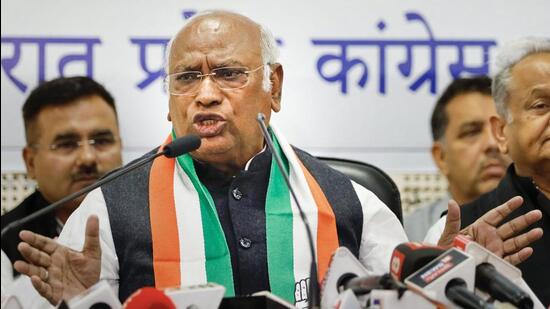 Congress president Mallikarjun Kharge on Monday accused Prime Minister Narendra Modi and other Bharatiya Janata Party (BJP) leaders of delivering provocative speeches in the run up to the elections in Gujarat in an attempt to mislead people.
"Even after the BJP has been in power here for the past 27 years, the Prime Minister, home minister, and five chief ministers are coming here and giving provocative speeches to fool the people. There is fear in the BJP, and they are trying their best to provoke people," Kharge said at a press conference in Ahmedabad on Monday.
Kharge, who is in Gujarat to campaign for the assembly elections on December 1 and December 5, has been particularly critical of PM Modi, who is fronting the ruling party's campaign in the state and has launched sharp attacks on the Congress in his speeches.
Also Read: Congress was soft on terror, says PM Modi in Gujarat poll salvo
Kharge asked why PM Modi didn't talk about his own achievements since he and the BJP have been in power for nearly 27 years in the state rather than still blaming the Congress. He also linked the change of chief ministers over the last six years to their performance.
"In the past six years, three chief ministers have been changed. This shows that no work has been done in the state under the BJP," he said. After PM Modi moved from Gujarat to Delhi in 2014, the BJP selected Anandiben Patel as his replacement. Two years later, she was replaced by Vijay Rupani, the party's chief ministerial face in the 2017 state elections. Last year, Rupani stepped down to make way for Bhupendra Patel.
The Congress president also sought to target the BJP over the choice of its slogan in Gujarat that focuses on PM Modi. "He doesn't even mention their party's name while seeking votes. He asks people to vote in my name after seeing his work. PM Modi says Vote for Modi as he has built Gujarat," Kharge said, a reference to the slogan, "Aa Gujarat Main Banavyu Che" (I have made this Gujarat).
Also Read: PM Modi is leader of lies, is trying to gain public sympathy: Kharge in Gujarat rally
Kharge said PM Modi was dismissive of the efforts of everyone else who worked for Gujarat's development. "Before the BJP, the Congress and other parties contributed to building Gujarat, with leaders such as Morarji Desai contributing to the state's development. And the BJP says they have all done nothing? Some national leaders struggled to achieve Independence, and he just dismisses their struggle."
Kharge also criticised the BJP for not going enough for Gujarat's youth. "There are still 5 lakh vacancies here in government posts, 28,000 vacancies for teachers, and the debt will surge to ₹4.6 lakh crore in the state."
"There are no jobs for teachers, lack of hospitals, schools. People have become frustrated here. Inflation keeps rising, and on top of that, there is the burden of GST," he added.
Elections to the 182-member Gujarat assembly are scheduled to be held in two phases on December 1 and December 5, whose results will be declared on December 8, which coincides with the result date of the Himachal Pradesh polls.