Modi is leader of lies, is trying to gain public sympathy: Kharge in Guj rally
HT Correspondent I Edited by Shilpa Ambardar
Nov 27, 2022 11:59 PM IST
"People are still dying of hunger... the lowest nutrition for children is found here in Gujarat," he said
Prime Minister Narendra Modi is the "leader of lies" and is trying to gain "public sympathy" on the pretext of being a victim of abusive language, said Congress president Mallikarjun Kharge on Sunday.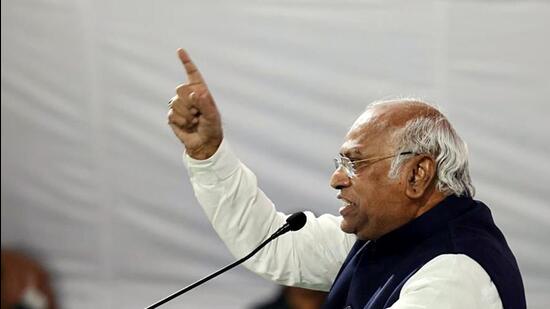 The Congress chief while addressing a public rally in Dediapada area of Narmada district in Gujarat said he himself comes from the "poorest of the poor".
"The PM always says I am poor, but I'm (Kharge) from the poorest of the poor, I come from the untouchables... At least someone used to drink your tea... nobody even drinks my tea. You (Modi) say I am poor, someone told me bad words, 'Meri aukat kya hai'... if you are trying to gain people's sympathy, people are not fool.They are very smart.," he said.
"If you tell people your first lie, they will listen. if you tell them lie for the second time, they will still listen. But how many times will you tell them lies after lies... He's the leader of lies and yet he says that the Congress looted the country.. it is you (Modi) who is looting the public.. you are looting poor people. You are not giving land to the tribal. Who is destroying the forest, the land and water?," Kharge asked.
Speaking on the PM and home minister Amit Shah accusing Congress of insulting Sardar Patel, Kharge said, "I ask you, in the Rashtriya Swayamsevak Sangh office or even the Bharatiya Janata Party office, have they ever kept a photograph of Sardar Patel? No... Sardar Patel is only used to create a divide in Congress. Even today you won't find a photograph of BR Ambedkar in an RSS office."
"They always say that Gandhi is insulted, Gujarat is insulted... but who killed Mahatma Gandhi? who shot him? who was Godse? it was one of their near and dear ones. Now suddenly they are bestowing love for Gandhi," Kharge said.
"...Modi and Shah always say that in 70 years nothing has been done.. ask them, didn't Morarji Desai or Jivraj Mehta do anything for Gujarat? ...or is it that only these people have done (something) in eight or 27 years in Gujarat," he said.
"People are still dying of hunger... the lowest nutrition for children is found here in Gujarat," he said
Talking about the debt on Gujarat, Kharge said, "Today the debt of Gujarat is ₹4.5 lakh crore. Who is going to pay it? It is not going to be paid by Narendra Modi or Amit Shah or Adani or Ambani.... It is you (people) who will be paying it.. And even after all this, you are still giving them chance after chance... Give Congress a chance this time."
Reacting to Kharge's statements, BJP spokesperson Yamal Vyas said, "Congress has no quality agenda for people of Gujarat. They have been using abusive language against Modi and we don't need anybody's sympathy to garner votes. Narendra Modi has done a lot of work for Gujarat and India".
"He is the first PM who has given huge projects to Gujarat, whereas the Congress was completely ignoring Gujarat, including the Narmada project, which was stalled for 15 to 16 years. The PM has the sympathy of the people and he doesn't need to ask for it," he said.