Anu Aggarwal recalls Rekha's compliment: You have a face that we all try to achieve through makeup
Jan 12, 2023 07:06 AM IST
Anu Aggarwal said Rekha once complimented her that she has a face that 'women all make through make-up'. Here's what happened.
Former actor Anu Aggarwal, who gained fame after featuring in Aashiqui, recalled how veteran actor Rekha once told her that she has a face that 'we all make through make-up'. In a new interview, Anu said that the incident took place during one of the tours after her film's release. She said that it was the first time that she came face to face with Rekha, who asked her to meet her. (Also Read | Anu Aggarwal recalls being in a live-in relationship where boyfriend's mother also lived with them)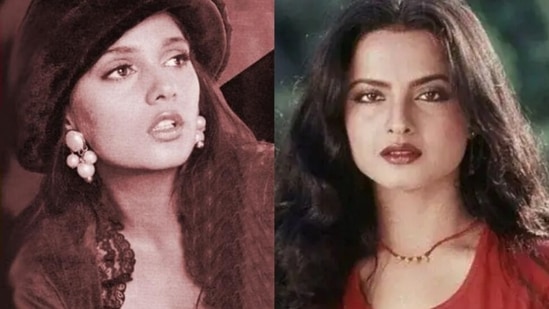 Aashiqui (1990) is a musical romantic drama film directed by Mahesh Bhatt. The film starred Anu, Rahul Roy, and Deepak Tijori in pivotal roles. The film was known for its music, composed by Nadeem–Shravan.
Speaking with Indian Express, Anu said, "I remember, after Aashiqui came and we became popular, we did a lot of tours in several parts of the country and in the UK and US. Rekha was also a part of one such tour. I had never met Rekha before, and as far as I'm concerned, she's my senior. Her assistant came and told me 'Rekha ji wants to see you'. I'll never forget this, it was a room with mirrors and she was sitting and getting her make-up done. She and smiled at me and said, 'you have got a face that we all make through make-up.' I was just like 'wow', I didn't know how to say thank you or react to that kind of a compliment."
She also spoke about undergoing surgery, "I'd never go under the knife. Even after my accident, people told me that I'd need to go under a knife if I want to continue working. But if you accept yourself for what you are, you don't need surgery. It is your belief in yourself that will take you ahead in life. The entire thing of going under the knife is a trend, don't you see that?"
Anu appeared in the Doordarshan serial Isi Bahane in 1988. Aashiqui's sequel, titled Aashiqui 2, starred Aditya Roy Kapur and Shraddha Kapoor and released in 2013. Anu has been part of several films such as Ghazab Tamasha (1992), Thiruda Thiruda, Khal-Naaikaa and King Uncle (1993), Janam Kundli (1995), and Return of Jewel Thief (1996).