Anupam Kher chants 'Om Namah Shivaya' during medical check up: 'Kitna khoon nikaloge?' Watch
Published on Jan 12, 2023 04:39 PM IST
Anupam Kher shared a hilarious video of himself, pretending to be scared during a medical check up. He was seen chanting God's name.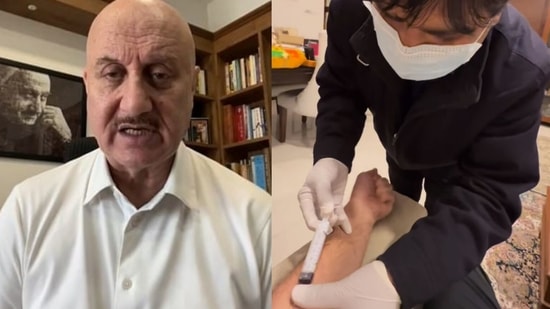 Actor Anupam Kher posted a video from one of his regular medical check up. His blood was being taken by a medical professional for examination, and it left him chanting Om Namah Shivay. The actor pretended to be scared of the needle in the video. Also read: Anupam Kher praises arrangements as he travels by AC chair car
Anupam lightened up the mood while he was being injected. He gave the situation a hilarious twist and is heard saying jokingly, "Av tum khoon nikal rahe ho mera. Galat baat hai (You are drawing my blood out, this is not done)." He went on to chant Om Namah Shivay.
"Aur kitna nikaloge mera? (How much more blood are you going to need)" he further asked the medical person. He replied, "Bus (only) 6 ml." The actor also added, "Khoon ka badla khoon (blood for blood)." Sharing the video, Anupam wrote, "Subah subah khoon nikal diya mera… even if it is for a regular check up… par khoon toh khoon hota hain (Early morning they took my blood sample, blood is blood after all)."
After he shared the video, many fans took to the comment section and sent him best wishes for his health. One of them replied, "Hope all good with you sir. Hope u stay happy and healthy forever." "What's happened Anupam ji . Get well soon," added another one.
Recently Anupam Kher celebrated his film The Kashmir Files' being eligible for Oscars. The Vivek Agnihotri-directorial was a part of a list containing 301 films which are now eligible for upcoming Oscars.
Talking about it, Anupam Kher told news agency ANI, "The Kashmir Files being shortlisted at the Oscars is an achievement in itself, it's too early to celebrate. This tragedy was kept hidden for 32 years and after 32 years when this film was released, the world welcomed it but also there were a lot of people who commented a lot about it. Not only the film is shortlisted but I am also shortlisted for the Best Actor award. It's a humbling and amazing feeling. Four more films are shortlisted from India. I wish them all the best and congratulations."
Topics