Salim Khan's Hindu father-in-law had objections against his religion, here's how he reassured him
Feb 04, 2023 07:40 AM IST
In an interview, actor Arbaaz Khan asked his father Salim Khan about facing opposition from his in-laws when he wanted to meet his wife, Salma's family for the first time. The veteran screenwriter also recalled how his future father-in-law had said his religion was not acceptable.
Salim Khan recalled his tough courtship with first wife Salma Khan on his son Arbaaz Khan's new talk show. The veteran screenwriter spoke about how he faced opposition from his wife's Hindu family at first. After marriage, his wife also changed her name from Sushila to Salma in 1964. They would go on to have four children - sons, Salman, Arbaaz and Sohail, and one daughter, Alvira. They later adopted another daughter Arpita. (Also read: Salim Khan on Salma Khan's reaction when he told her he wanted to marry Helen: 'She didn't say I did something good')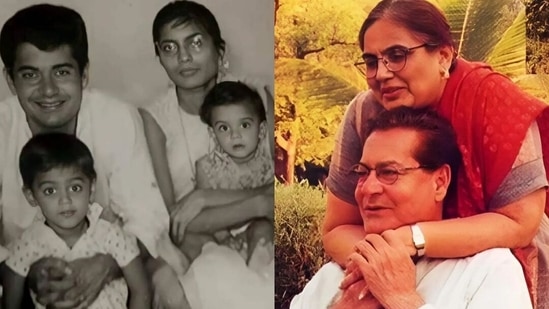 The veteran screenwriter revealed that their relationship began, at first, in secret. But he later insisted, "I would like to meet your parents." He was not comfortable meeting in secret and lying about it to her family.
He recalled in the interview with Arbaaz Khan on his show The Invincibles, "When I went to meet them, I felt all the country's Maharashtrians had assembled in one place. There were so many people. I have never been as nervous as I was then. Everyone had come to see me, like I was a new animal in the zoo. Many were in my favour too. My father-in-law said, 'We have enquired about you. You are educated and from a good family. You don't get good boys these days. Magar religion acceptable nahin hai (The religion is not acceptable).'"
Salim had replied to him that there may be thousands of problems between him and Salma, "but religion will never be one of them". Arbaaz also shared that his mother's name was originally Sushila and she changed it after marriage to Salim. He also asked his father how his name changed from Salim to Shankar in the family. "Her grandmother, who was called Ajji, she was the only person in the family who was in support of me. She used to wait and say, when will my Shankar come?" Salim said.
In 1981, Salim married the actor-dancer Helen in a second marriage. While it was difficult at first, the family has adjusted to her now and the children all called her Helen Aunty. Arbaaz will also be interviewing other celebrities from the golden age of Hindi cinema including Helen, Javed Akhtar, Mahesh Bhatt and Waheeda Rehman.