Salman Khan is a lot like him, says Jackie Shroff: 'Uska kapda, chalna, bolna... he has grown up looking at me'
Published on Aug 09, 2022 09:44 AM IST
Jackie Shroff said Salman Khan had grown up looking at him. The actor said Salman's way of walking, talking and dressing were similar to his.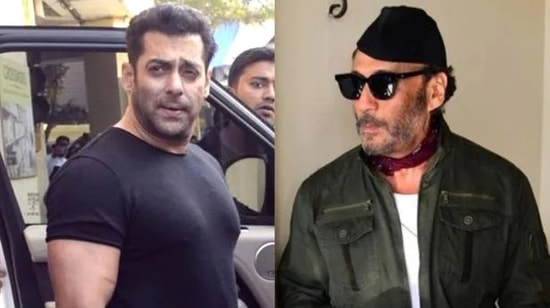 Jackie Shroff was asked what he loves the most about Salman Khan in an interview. The actors have worked together in films like Bandhan (1998), Sirf Tum (1999), Kahin Pyaar Na Ho Jaaye (2000), Kyon Ki (2005), Veer (2010) and Bharat (2019). Jackie said Salman was 'a lot like him'. The actor added that he has no one else like Salman in his life. Read more: Jackie Shroff, Sanjay Dutt, Mithun Chakraborty start shooting for new action film Baap, fans get 90s vibes
Jackie was seen playing Salman Khan's father in the film Bharat. The two actors have a 10-year age gap, but Jackie had said around the film's release that Salman was like his 'bachcha'. Now, in a recent interview, Jackie has said that Salman 'has grown up looking at him'. He added that Salman's way of walking, talking and dressing were similar to his.
"I see him a lot like me. Uska kapda, uska chalne ka, uska bolne ka (the way he dress, walks and speaks). You know, he has grown up looking at me, I think. Right from Kailash Surendranath (well-known ad director, who gave Salman his first break in a Campa Cola ad in 1983). He's like my little brother or something. Aisa hai hee nahi mere paas koi, na mein isme believe karta hoon. Magar, aisa lagta hai ki mera hi hai. Main apne aap ko dekhta hoon (I don't have anyone like Salman in my life, and neither do I believe in such a thing; but with Salman I feel he is mine. I see myself in him)," Jackie told journalist Faridoon Shahryar.
In a 2019 interview, Jackie had spoken about him and Salman essaying the role of a father-son duo in Ali Abbas Zafar's Bharat, which also starred Katrina Kaif. Talking about their age gap and their onscreen roles, Jackie had told Mid-Day, "I am aware that the age gap is only 10 years. We started our careers almost around the same time, but I don't have any problem playing his father. I have always treated Salman like my bachcha (child). Even today, he is like a kid to me." Recalling how Salman used to admire his style sense, Jackie had added, "I remember, (in our early days) he would admire my jeans and shoes."
Earlier in June, Jackie Shroff announced his next project via an Instagram post. He is all set to star alongside Mithun Chakraborty, Sanjay Dutt and Sunny Deol in the upcoming action-drama, Baap. He had shared a picture with Mithun and Sanjay from the sets on June 16, and written, "Jahan chaar yaar mil jaaye… arre chautha kidhar hain bhidu… @duttsanjay @mithunchakrabortyofficial? (Where four friends reunite… But, where is the 4th one (Sunny Deol)?)"
Personalise your news feed. Follow trending topics