BTS' Jimin poses with Robert Pattinson and David Beckham in Paris, reveals he was 'less nervous' because of this person
Jan 21, 2023 07:24 PM IST
BTS' Jimin posed with Robert Pattinson, Naomi Campbell, and David Beckham in Paris. Here's why he was less nervous during the event.
BTS member Jimin posed with actor Robert Pattinson and footballer David Beckham during the Paris Fashion Week held recently. The singer also penned a note for BTS ARMY revealing that though he was nervous, being with fellow group member-rapper J-Hope helped him calm down. (Also Read | BTS' Jimin and J-Hope flash heart signs at fans as they head for Paris Fashion Week. Watch)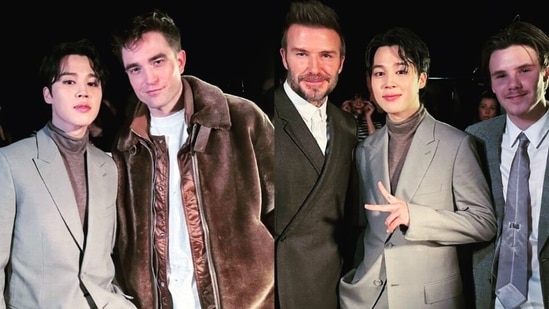 Taking to Instagram on Saturday, Jimin posted photos with David, his son Cruz Beckham and Robert Pattinson. For the event, Jimin wore a dark grey turtleneck sweater under a grey blazer and trousers. He smiled and flashed his signature victory sign while posing with the other celebrities.
Robert opted for a brown turtleneck sweater, a matching brown jacket, a blue skirt, and black boots. Jimin didn't caption the post. The show was also attended by Naomi Campbell who sat next to J-Hope and Jimin. She also posed with them and shared conversations. J-Hope wore a black outfit for the event.
Earlier, Jimin on Weverse shared a note for fans. He wrote, "Everyone, I'm here for fashion week. It was a new and meaningful first experience. I think I felt less nervous because I came with Hoseok. Thank you for watching. I was so happy to see ARMY welcoming me there."
Reacting to the post, J-Hope dropped heart emojis. When a fan commented that they are waiting for Jimin's live, the singer said, "I didn't forget either (laughed)." J-Hope also shared several pictures with Jimin as the duo seemingly visited a museum. Posting photos on Weverse, J-Hope wrote, "Playing with the cutie." They seemed to enjoy themselves and teased each other.
French fashion house Dior recently named Jimin a global brand ambassador. Jimin's event in Paris comes just a few days after he collaborated with Big Bang member Taeyang for a new single, Vibe. According to Billboard, an American music and entertainment magazine, the two boy band veterans trade verses on the track, singing and rapping, "You know we got that vibe baby/Look at you, look at you/You got the vibe, I can feel it, It's a vibe."
The song, which debuted at No 1 on the Billboard Hot Trending Songs before it was even released, is accompanied by a suitably vibey music video, which captures the pair's slick dance moves and charisma. Jimin's 2022 collaboration with Ha Sung-woon already holds the record for the second-longest reign at No 1 on the Hot Trending Songs chart, tied with SB19's Bazinga, as per Billboard.