The Mandalorian season 3 trailer: Grogu and Daddy Mando bring fresh action to a new adventure. Watch
Jan 17, 2023 04:25 PM IST
The Mandalorian will be back with a third season soon on Disney+ Hotstar. First trailer of the new season is now out.
Disney has released the trailer for the upcoming third season of The Mandalorian. The new season will reunite The Mandalorian with Grogu AKA Baby Yoda, as they embark on a new adventure through the galaxy. (Also read: The Mandalorian review)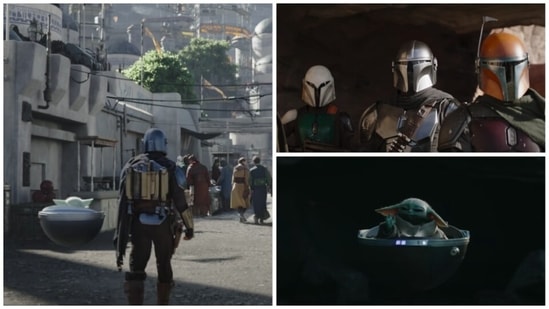 The trailer begins with the current status of Mandalorians, who are scattered all over 'like stars in the galaxy'. Pedro Pascal, who plays the titular Mandalorian (Din Djarin), asks 'who are we, what do we stand for…' as different, previously unseen Mandalorians come together.
Din and Grogu then travel through hyperspace to Mandalore. Din even adorably holds Grogu in his arms in their spaceship and they arrive at a new planet. A distant relative of Salacious B Crumb, a Kowakian monkey-lizard greets them from atop a tree. Din says he is going to Mandalore so that he may be 'forgiven for his transgressions'. "This is the way," he says.
On their way, they meet some old friends and make new enemies. A few Jedi wield their light sabers, a thug even tries to mess with Grogu but he makes sure to make him eat dust.
The new season will be directed by returning director Rick Famuyiwa, and Bryce Dallas Howard, Black Panther cinematographer Rachel Morrison, Minari filmmaker Lee Isaac Chung, Mandalorian actor Carl Weathers, and Spider-Man: Into the Spider-Verse's Peter Ramsey. The official synopsis mentions, "The Mandalorian will cross paths with old allies and make new enemies as he and Grogu continue their journey together."
Jon Favreau is the showrunner, Dave Filoni, Famuyiwa, Kathleen Kennedy and Colin Wilson are executive producers with Karen Gilchrist and Carrie Beck.
The Mandalorian began in 2019 and was an instant hit. It also stars Katee Sackhoff, Carl, Amy Sedaris, Emily Swallow and Giancarlo Esposito. It will return on Disney+ Hotstar on March 1.