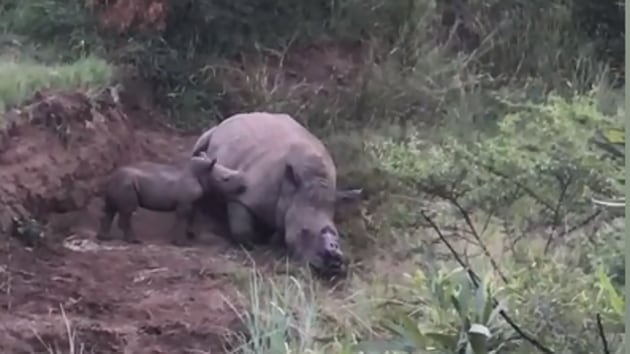 Video of Rhino calf crying next to mother killed by poachers triggers grief, anger
South Africa is battling a scourge of rhino poaching fuelled by insatiable demand for their horn in Asia.
UPDATED ON FEB 28, 2018 11:01 AM IST
Lottie, a baby rhinoceros, was crying next to the bloodied carcass of her mother whose horn had been hacked off by poachers at a South African national park earlier this month.
A video posted by the Pilanesberg Wildlife National Park and Trust shows the month-old calf "crying intermittently" and "running around frantically hoping her mom will get up and follow".
"Yesterday, another beautiful rhino cow was brutally killed for her horn. Her 1-month-old calf stayed with her mom, crying, not understanding why her mom is not moving. You can see her trying to drink from her dead mother... This is devastating!!!!" Rhino 911, which provides emergency helicopter services to rescue injured rhinos, said in an Instagram post on February 17.
The video has been viewed by one million users and shared over 16,000 times till Wednesday.
Lottie was spotted by a park official, walking alone and dehydrated, so we knew that there was something wrong. We looked around and found the mother's body close by, said Nico Jacobs, one of the first responders from Rhino 911.
Authorities realised Lottie may not survive without her mother, and called The Rhino Orphange, a non-profit organisation that rescues orphaned pachyderms in South Africa.
Jacobs said the incident was "heartbreaking" but the focus is to "get the baby to safety and start the rehabilitation process".
Witnessing such violence can be "stressful and traumatic for calves" and the rhinos "go into an orphanage until they are old enough to be released back into the wild", Perry Dell of the Pilanesberg National Trust told HT on Tuesday. Orphaned rhinos are usually reintroduced to the wild when they are three- to four-years-old.
TRO has at least 10 rhino calves from Pilanesberg, Dell said.
After being reared by human keepers for the first few days at TRO, Lottie has found a friend in another orphaned rhino named Mofalodi. Since then, the "naughty girls sleep side by side at night", according to the NGO's Facebook posts that document the orphans' journeys.
South Africa is battling a scourge of rhino poaching fuelled by insatiable demand for their horn in Asia.
The number of rhinos killed for their horns by poachers in South Africa dipped in 2017, but more than 1,000 were still slaughtered, the government had said in January.
"A total of 1,028 rhino have been poached from January 1, 2017 to December 31, 2017 compared to 1,054 in the same period for 2016 -- representing a decrease of 26 animals," the ministry of environmental affairs said in a statement.
The number of rhinos killed has climbed steeply in the past decade from just 13 in 2007, reaching a peak of 1,215 in 2014, according to the TRAFFIC wildlife trade monitoring group.
In the last eight years alone, roughly a quarter of the world population of rhinos has been killed in South Africa, home to 80% of the remaining animals.
Two species of rhinos in Asia -- Javan and Sumatran -- are critically endangered, The white rhino in Africa is classified as near threatened and black rhinos are still critically endangered, according to the World Wildlife Fund
Vietnam and China have the main illegal markets for rhino horn, which is viewed by consumers as a treatment for cancer, hangovers and other ailments, even though it is made from Keratin, the same substance as human fingernails.
It is normally sold in powdered form as a supposed cure for cancer and other diseases.
(With agency inputs)
Close