How to copy Ranbir Kapoor's exact Sanju film promotion looks in 9 photos
Updated on Jun 26, 2018 09:08 AM IST
Ranbir Kapoor's latest looks prove the actor and his stylists understand what works for him and are sticking with it. To promote Sanju, Ranbir's wearing everything from timeless suits to cool T-shirts and jeans combos. Here are nine major fashion takeaways.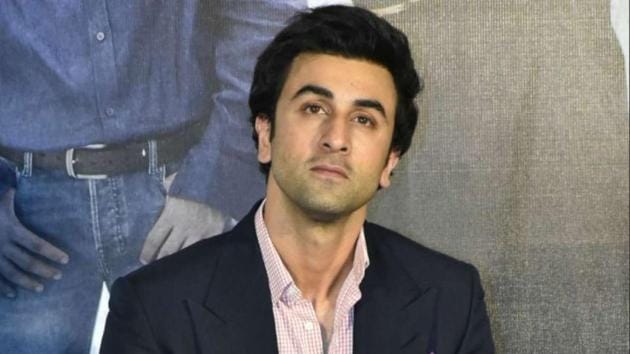 Actor Ranbir Kapoor has been making the media rounds to promote his film Sanju (which releases on Friday), and because he is Ranbir Kapoor, he's been looking pretty good doing so. Plus, he's having some fun within the confines of expectations (safe, but stylish) by playing with printed ties, pleated pants, and every type of jacket he can.
From T-shirts in bold, graphic patterns to perfectly tailored suits, Ranbir's new and cool style is all about clothes that fit him well. The guy looks just as sharp on the street as he does all suited-up.
We've said it before and it bears repeating: Ranbir adds just the right amount of personality to an otherwise simple outfit and looks like a million bucks everytime he steps out. Yes, it helps to have his genes. But it also helps to have his jeans — and his jackets, and his tees.
If you're a man who wants to make his presence known at work, on a night out or a date, or even at a wedding, check out how Ranbir does it. So, with no further ado...
1. Ranbir knows classics aren't boring. Adding your own personal touches — like a pocket square, a stellar head of hair — make the look your own.
Ranbir's wearing Tom Ford and O'Keeffe
2. Really, all Ranbir's wearing is a graphic tee, jeans, and a sneakers. But the sweatshirt stands out just a bit, and the jeans are perfectly distressed. Small details like those make a big difference.
Ranbir's wearing Belstaff, Dolce and Gabbana, Versuchskind and Leather Crown
3. A grey suit is a staple. A pair of black sunglasses and white pocket square make it interesting.
Ranbir's wearing Emporio Armani, Eton Shirts Official and Thomas Pink
4. A three-piece suit with waistcoat might be more formal, but that doesn't mean you can't have fun with them, too. And if you're bored with blues and blacks, shiny grey is a polished upgrade. Buttoned-up, but not too stuffy.

Ranbir's wearing Boss, Paul Smith, Brooks Brothers and Canali
5. When the situation calls for it, a light jacket and bright T-shirt is a sleeper-hit casual-ish combo.
Ranbir's wearing Transit Official, O'Keeffe and Gaspard Hex
6. Ranbir's style leans into the athletic universe (football and all that), but he always finds a way to make it cool. A tri-colour leather jacket is one way to do it.
Ranbir's wearing Belstaff and Leather Crown
7. Ranbir's sweatshirt itself is already pretty casual; but adding ripped skinny jeans into the mix is what really sets it apart.
Ranbir's wearing Name Heron Preston, Versuchskind and Leather Crown
8. An asymmetrical bandhgala worn over a matching embroidered kurta is not quite as conventional as a kurta pyjama or a bandhgala-churidaar set, but it wears just as easily. Take a cue from Ranbir and keep the rest of the festive outfit classic.
Ranbir's wearing Manish Malhotra and O'Keeffe
9. If you're trying to avoid a dressy shirt under a blazer, a printed knit in a similar colour as your suit is an easy option.
Ranbir's wearing Burberry, Karl Lagerfeld and Tod's
Follow @htlifeandstyle for more