Masaba Gupta offered fake print in Lajpat Nagar, told it's from a country called Masaba
In a conversation with Hindustan Times, designer Masaba Gupta shares her funny encounter with fakes in Delhi, tells us why she didn't choose the world of Bollywood and says there's no one more humble in the film industry than Ranbir Kapoor.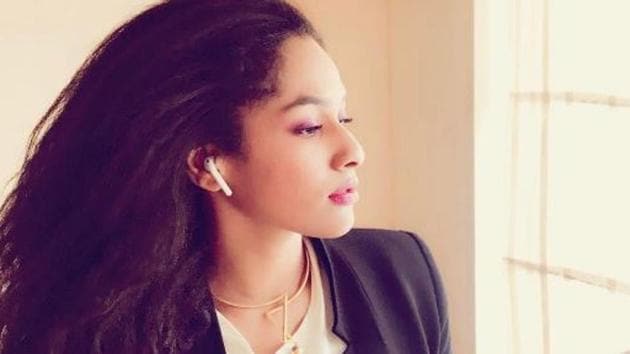 Updated on May 03, 2017 07:23 PM IST
The print queen of Indian fashion, Masaba Gupta, doesn't like mincing words. In a Facebook Live conversation with Hindustan Times, the 27-year-old shared her hatred for the anarkali, her tryst with Paalak Patte ki Chaat, and an encounter with a copy of her own print that she spotted in Lajpat Nagar. "I had gone to a fabric store in Lajpat Nagar and this guy comes up to me and says: 'Madam dekho, aaj naya Masaba print aaya hai, aapko dekhna hai? (Madam, there's a new Masaba print that has come in, do you want to see it?) So I said, listen, I am Masaba! And he's like: 'Listen what are you talking about? There's no such thing as Masaba. It's a country where the prints come from." And what's her take on the copy-cat behaviour? " I love it.The fact that I'm able to provide someone livelihood is great. It's not eating out of my market, so it doesn't matter. It is just making the brand stronger."
Daughter of actor Neena Gupta and legendary cricketer Vivian Richards, Masaba shared that while she grew up surrounded by Bollywood, her mother's honesty kept her away from the industry. "My mother told me that you are not that conventional a face, and that you'll find hard for people to accept you in Bollywood. I took that advice, because I don't like being second in anything. I like to be on top of my game. I don't want to be in a profession where I would need people to accept me. It should happen naturally. Also, I don't have the temperament for it. It's (the industry) a lot of games, but I don't play games. I just do my work and leave." she says.
The designer, who is married to film producer Madhu Mantena might not be acting in films, but she still has some filmy insight. She grew up with many of those who make up contemporary Bollywood.
"Sonam is the most mature, while Alia is the baby of the group. Jacqueline's a lot of fun too..she's got so much energy! Among the boys, Ranveer is amazing.. I am his hugest fan! In terms of being down to earth, I haven't met someone like Ranbir Kapoor. He is just so normal — no hang ups," she says.
When asked about re-inventing the salwar kameez ,during the live session, Masaba revealed what prompted her to do it. "I personally detest the anarkali. It's one of the more horrid silhouettes ever. There are more silhouettes that are far more flattering, like the sari. Having said that, I wanted to bring in some fresh air into fashion in terms of how people perceive Indian designers and go beyond wedding wear," she said, adding that while anarkalis will never go out of fashion in India, they can at least be re-invented. If fashion is Masaba's first love, the second has to be food. "When I am in Delhi, paani puri, paallak patte ki chaat and hot choclolate is something I love to gorge on!" she shared.
Watch the Facebook Live session with Masaba Gupta here
Close Story
Personalise your news feed. Follow trending topics