Feet Care 101: How to keep your feet blister-free this summer
May 30, 2018 11:49 AM IST
As if tanning, sunburn and pimples weren't enough to struggle with in summer, blisters on the feet add to the list of skin woes. We decode why they occur and how to treat them.
One of the most annoying summer problems is painful blisters on your feet and toes. Blisters can be defined as a small pocket of fluid that forms because of friction. We got in touch in with Preeti Seth, wellness expert, to understand why blisters occur and how we can get respite from them.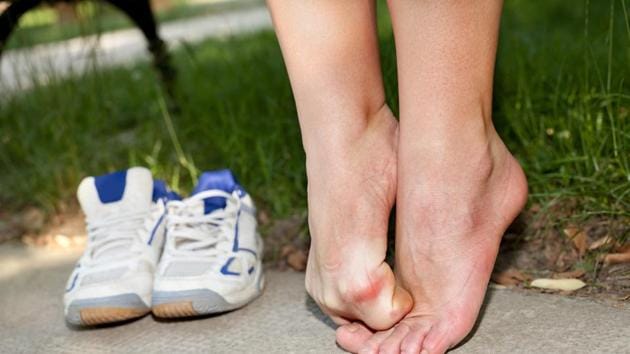 1) Sweat: Sweating is one reason that causes blisters on the feet during summers. It usually happens when the sweat clogs the pores in the feet. If you are going to wear shoes for a long period of hours, then make sure that you air your shoes before wearing them.
2) Ill-fitted shoes: Your shoes should not be too tight or too lose. If your shoes aren't the right fit, then chances are that feet will rub against the shoe causing friction, which in turn leads to blisters.
3) Damp feet: If your feet are damp, then your skin is more vulnerable to blisters in summers. Make sure to dry your skin by cleaning your feet properly and applying talcum powder.
4) Wearing shoes without socks: One of the biggest mistakes you can make during summer is wearing shoes without socks. Wearing socks reduces the friction between your feet and the shoes. Without socks, the chances of getting blisters are quite high.
Moisturise your feet before wearing shoes. You can use petroleum jelly. If the blister is small, then to prevent it from becoming big, apply a band-aid on it before you wear shoes. Apart from that, a lukewarm Epsom salt bath helps to dry blisters and reduce swelling. You can also opt for aloe vera as it's anti-bacterial and anti-inflammatory.
Avoid picking off the top layer of the blister as it leaves it open for germs. Wash your hands and clean the surface of the blister with an alcohol-soaked cotton pad. Sterilise a sewing needle over an open flame and cautiously poke the blister. Let the fluid ooze out, pat clean it and flatten the blister.