Are 4 points enough to qualify from a FIFA World Cup group stage?
Updated on Jun 14, 2018 05:17 PM IST
The traditional thinking is that four points are enough for a team to qualify for the knock-out stages of the FIFA World Cup, but stats show that since 1994 it hasn't always been the case.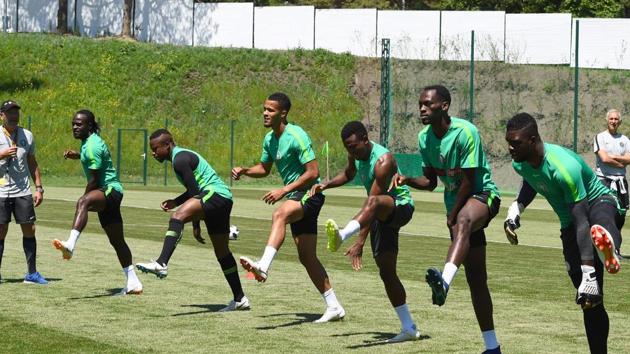 Hindustan Times, New Delhi |
Shijith P Kunhitty
A look at World Cup groups since 1994 shows that a tally of 4 points in the table is no guarantee of qualification for the knockout phase. 33 teams have managed to get four points since 1994, but only 17 teams, a little over half, have managed to qualify for the next round.
When it comes to qualifying from a World Cup group, unless you're one of the strongest teams aiming for first place, the traditional thinking has always been 'Get four points'. Win against one team, draw against another, don't get beaten too badly by the giants of the group and hope that the other teams take points off each other.
Look at this points table below for Group F from the last World Cup in Brazil in 2014. Argentina are the obvious favourites to win the group. But Nigeria managed to get into 2nd place with four points. They drew with Iran 0-0, beat Bosnia and Herzegovina 1-0 and lost by just one goal to Argentina in a match that ended 2-3.
But how often have teams with 4 points managed to get into 2nd place? To do this we looked at World Cup groups since 1994 when 3 points for a win was first introduced. (Before 1994, it was 2 points for a win.) The points of teams that finished 2nd and 3rd in a group were then tallied.
From the chart below, we see that teams that have gotten 4 points have managed to finish 2nd in a World Cup group 17 times since 1994. While there have also been 16 occasions where a team that finished with 4 points didn't qualify.
(Note that we aren't talking about teams in different groups here. There have also been times where the team in 2nd and 3rd both ended with 4 points in the same group and have had to be separated by goal difference.)
And if we look at how teams that have 4 points have historically performed since the World Cup in 1994, we see that in the last World Cup in 2014, four teams managed to come 2nd (chart below) while two teams ended up 3rd.
So why have four points not been enough? Simply put, it's because of how much you have to rely on other results to go your way for this points total to be of any use.
World Cup teams adopt the "win one, draw one" strategy as a way of being realistic about what they can achieve. Almost as a way of asserting some control over their situation, and giving themselves a clear plan of attack.
But the fact is that there are any number of combinations of results that could put you out of the tournament, even if you do get four points.
So if you're a minnow in a World Cup group, it doesn't mean that you should go all out for a win against teams like Brazil or Germany. But if you think you can afford a narrow loss against a strong team and still go through with four points, you're taking a huge chance by leaving your qualification up to other results. And by that point, it's all out of your control.
Personalise your news feed. Follow trending topics