FIFA World Cup 2018 diary: Sleepy Kylian Mbappe and Mario Mandzukic's cunning plan
Updated on Jul 10, 2018 09:46 PM IST
Teasing Kylian Mbappe, a Harry Maguire tattoo and Mario Mandzukic's change of role all feature in day 26 of the World Cup diary.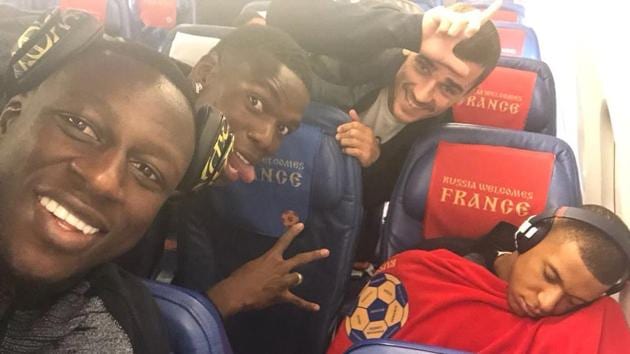 With just one day to go until the first semi-final, things are starting to get tense at the World Cup. Well, unless you're Kylian Mbappe, that is.
The France star appears to be rather at peace with the world ahead of the biggest game of his career to date, which was something not lost on team-mate Benjamin Mendy.
Elsewhere, Harry Maguire has promised a gift to the man who seems to have become his biggest fan, Ashley Young took up bowling on his birthday and Mario Mandzukic auditioned for the role of most unlikely semi-final goalkeeper ever.
Here are some of the best bits from day 26 in Russia...
MAGUIRE IS THE NEW FACE OF FANDOM
Maguire has become something of a hero among England fans lately, whether for bullet headers against Sweden or posing for pictures that have fast become some of the most popular memes on social media.
One supporter has taken his backing of the Leicester City man to new heights, though, opting to get a sizeable tattoo of the defender's profile.
ALSO READ | FIFA World Cup: Kylian Mbappe a star for next 15 years - Kevin de Bruyne
But Maguire, perhaps not wanting to disturb the growing rapport between players and fans, was effusive in his praise of the ink work. So much so, in fact, that he has promised an England shirt signed by the squad for the gentleman in question.
KYLIAN M-NAP-PE
France owe a large part of their run to the semi-finals to Mbappe, who continues to look like a player capable of dominating European football for the best part of the next decade.
It's easy to forget that the Paris Saint-Germain forward is still only 19, a veritable infant on the World Cup stage. Mendy, however, does not seem to have forgotten his compatriot's tender years.
The Manchester City full-back, something of a notorious social media joker, took full advantage when the opportunity arose to poke some fun at France's prodigy as he slept on their flight to St Petersburg.
With Paul Pogba and Antoine Griezmann joining in, Mendy took a photo that included a caption asking whether Mbappe had been watching "too much Razmokets" – Rugrats, to an English audience.
OLDHAM JOIN THE COMING HOME PARTY
England's progression to the last four of the World Cup for the first time in 28 years has captured the imagination of their fans back home, and, it seems, football clubs.
ALSO READ | FIFA World Cup 2018: Belgium's Roberto Martinez best coach but France favourites
Oldham Athletic of League Two, one of the country's oldest footballing establishments, have got into the spirit of things with their own homage to that famous 1996 song by The Lightning Seeds that has been heard from every single household and business across the country in recent days.
While it might only be a smart bit of photoshopping, the spirit of the gesture is no doubt appreciated by the Three Lions preparing to face Croatia in Moscow.
MANDZUKIC'S 'SURPRISE' TO PICKFORD REVEALED?
Speaking at a news conference on Monday, Mandzukic promised to "surprise" Jordan Pickford, who has excelled in goal for England in these finals.
It was thought the Croatia striker was referring to his side's ability to score goals from across the pitch, with only Belgium able to better their record of eight separate players finding the net in Russia.
ALSO READ | Gareth Southgate led by example at Aston Villa: John Gregory
However, based on some footage from their training session in Moscow, it seems Zlatko Dalic's side might in fact be considering a shock decision in goal as part of their plans to topple Gareth Southgate's charges...
BIRTHDAY BOY YOUNG STRIKES LUCKY
Young deserves huge credit for his efforts at this World Cup, not only for his performances for England, but also for turning up for media duty on his birthday.
The Manchester United man turned 33 on Monday but did not let that stop him speaking to the press ahead of his side's clash with Croatia.
The wing-back was also happy to take part in the latest stage of the players-versus-reporters contest at the team base in Repino. Whether he really did get a strike has not yet been confirmed...
Personalise your news feed. Follow trending topics