FIFA World Cup 2018, Russia vs Croatia, highlights: CRO beat RUS 4-3 on penalties
Updated on Jul 08, 2018 02:31 AM IST
Get highlights of Russia vs Croatia, FIFA World Cup 2018 quarter-final match, here. Croatia beat Russia 4-3 on penalties on Saturday.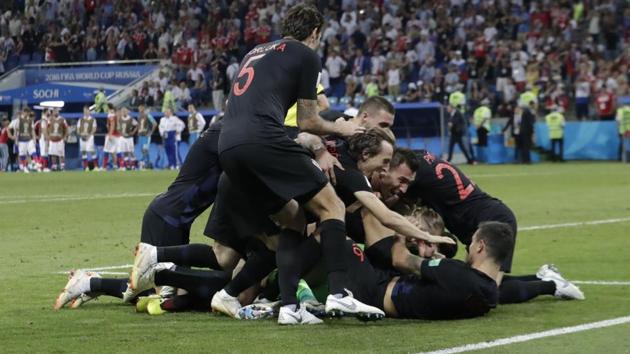 Hindustan Times, New Delhi |
Shayne Dias
Croatia beat Russia 4-3 on penalties on Saturday to set up a FIFA World Cup 2018 semi-final against England after a dramatic match full of twists and turns.The game finished 2-2 after extra-time following a late equaliser by Russia's Mario Fernandes. Denis Cheryshev struck a stunning opener from distance to give the hosts the lead in the 31st minute but Croatia equalised through Andrej Kramaric just eight minutes later. Croatia's Domagoj Vida broke the deadlock in extra-time, getting his head to the ball from a corner to score in the 101st minute but Fernandes headed home from a free-kick just five minutes before the end in Sochi. Get highlights of Russia vs Croatia, FIFA World Cup 2018 quarter-final match, here. (FULL FIFA WORLD CUP 2018 COVERAGE)
2:30 AM IST: That's it from our side, thank you so much for joining us! Do join us for more live coverage of the FIFA World Cup. Until then, goodbye!
2:27 AM IST: What a game that turned out to be. Heartbreak no doubt for Russia, but Croatia held their nerve and deserved to go through.
2:20 AM IST: GOAL! Ivan Rakitic has knocked Russia out of the World Cup! They will face England in the semi-finals.
2:18 AM IST: Modric scores and Croatia are now ahead. Ignashevich then batters his penalty in before Vida restores parity. Kuziaev then scores. Can Rakitic do it for Croatia?
2:16 AM IST: AND KOVACIC MISSES! Oh my word. Amazingly is followed Fernandes missing from the spot too!
2:13 AM IST: Russia will shoot first, with Fedor Smolov lining up to shoot first. HE MISSES! To make matters worse, Brozovic converts thereafter.
2:10 AM IST: This is the second straight shootout for both sides. Who will survive this? It's all but time to find out.
2:07 AM IST: And here we go. The game will come down to 10 (or more?) shots from 12 yards out. Hold on to your hats, folks. This is going to be a thriller.
2:05 AM: This has been an exhausting game for both fans and players. What new drama penalties will bring, we can only imagine.
2:00 AM IST: Croatia celebrated too soon! Mario Fernandes equalises for Russia and now Croatia look deflated. Penalties, anyone?
1:58 AM IST: The game has lacked an edge over the past few minutes but there are plenty of tired legs out there. Croatia fans already seem jubilant.
1:55 AM IST: All Croatia need to do is hold on to their lead for a little over 10 more minutes and that will be the end of Russia's World Cup.
1:50 AM IST: Second half of extra-time is underway.
1:47 AM IST: The first half of extra time has ended and the game is 2-1 in favour of Croatia.
1:40 AM IST: GOAAAAAL! Vida scores what could be the winning goal for Croatia! It was a scrappy goal but don't think Croatia would mind at all.
1:35 AM IST: The first few minutes have been along expected lines; that is to say, fairly by-the-numbers.
1:30 AM IST: The first half of extra-time is underway. Sense the excitement!
1:25 AM IST: Full time and the game ends at 1-1, which means we get 30 more minutes of this. Let's all hope that the shootout (should the need for it arise) is exciting because the 30 minutes before it will be boring.
1:20 AM IST: 5 minutes have been added on.
1:15 AM IST: Russia would fancy their chances should it go into a shootout. Although given that Croatia also won a penalty shoot-out to get here, perhaps this won't be as much of a stroll for the hosts.
1:10 AM IST: The second half has been nothing short of a snoozefest. And there could potentially be 30 minutes more of this to go. Lovely...
1:05 AM IST: There are 15 minutes to go and the scoreline remains unaffected after the first half goals. This seems likely to head towards extra-time.
1:00 AM IST: Russia come close to score but Aleksandr Erokhin heads just over from a good position.
12:55 AM IST: The game is all in midfield at this point. Doesn't make for enthralling viewing either.
12:48 AM IST: Croatia have looked laboured in this match so far. But a good move sees Perisic shoots from close range and the ball somehow hits the post and cannons out.
12:43 AM IST: The second half has definitely lacked the tempo of the first. The game's being played at a pedestrian pace. Russia would no doubt be happy to take the game into extra-time and potentially penalties.
12:38 AM IST: Modric - who has done nothing much thus far - lashes out after losing the ball and is lucky not to get booked.
12:33 AM IST: Second half is underway. Can either side gain an advantage in this game?
12:18 AM IST: What has been a thrilling game between Russia and Croatia is level at half-time. Cheryshev and Kramaric the goal-scorers for either side.
12:15 AM IST: Russia could have gone into the break with a lead but some very questionable defending sees the game now evenly balanced.
12:12 AM IST: GOAAAAL! Out of nowhere Croatia are level. Mandzukic sets up Kramaric who nods home from close range. Game on!
12:09 AM IST: Croatia have made it this far on the back of excellent performances from Luka Modric and Ivan Rakitic, both of whom have not influenced proceedings much thus far. The midfielders will need to do more if Croatia are to have any chance of pegging the hosts back.
12:06 AM IST: That goal now puts all the onus on Croatia. Russia will no doubt look to sit deep and soak up the pressure now. The frustration of the situation gets to Dejan Lovren, who is the first player booked in the game.
12:03 AM IST: GOAAAAL! Denis Cheryshev scores an absolute belter to put Russia ahead! What a hit that was from 25 yards out and it came from absolutely nowhere.
11:59 PM IST: So nearly for Croatia! A cross from Vrsaljko over at the right side is met by Perisic but his header goes agonisingly wide of the far post.
11:56 PM IST: The game is going through a bit of a lull period now. Shame, given the blitzkrieg manner in which it started.
11:53 PM IST: Russia's coach yelling instructions from the sidelines. After the initial start, the hosts have calmed down a little. Croatia, meanwhile, have steadily grown into the game.
11:49 PM IST: Amazingly, the game has already seen a combined 6 shots being taken by both sides thus far... and we're not even 20 minutes into the game yet. More of this could make for a very entertaining match, especially if they actually manage to convert a couple of those shots...
11:46 PM IST: Croatia win a free-kick in a good crossing position and the resulting delivery eventually sees them win another dead-ball in a direct shooting position. Unfortunately, Rakitic's shot is both high and wide.
11:42 PM IST: Maybe it's because neither of these sides are burdened with heavy expectations, but the game has had a nice ebb and flow to it so far. Both teams are looking to get an early goal. Croatia earn another corner but it once again comes to nothing.
11:38 PM IST: It's their first real attack of the game and Croatia earn a corner after a well-worked move sees Akinfeev deny a low cross with a timely interception. The resulting corner sees Lovren and Rebic combine well but the latter's header goes over.
11:37 PM IST: Russia win the first corner of the game but the delivery is poor and easily dealt with. Croatia are penned back in their own half at this point.
11:34 PM IST: Perhaps spurred on by what's an absolutely electric atmosphere at the Fisht Stadium, Russia have begun the game on the front foot. Their home fans will expect more of this.
11:30 PM IST: The referee blows his whistle and we are underway at Sochi!
11:25 PM IST: The players have emerged from the tunnel and are lined up for the national anthem.
11:15 PM IST: The Fisht Stadium, where tonight's game will be played, has been host to some of the tournaments most exciting games thus far: Spain's 3-3 draw with Portugal, Germany's 2-1 win against Sweden and Cavani's solo showing against Portugal. Are we in for another display of fireworks tonight? We should find out soon because there's only 15 minutes to kick off.
11:10 PM IST: Croatia and Russia have played two competitive games against each other (Euro 2008 qualifiers). Both games ended goalless. Not exactly the best omen for a free-flowing game tonight then.
11:00 PM IST: Both teams make one change for this match. Denis Cheryshev is back in the Russia starting line-up; he replaces Yuri Zhirkov. For Croatia, forward Andrej Kramaric comes in with midfielder Marcelo Brozovic dropping out.
10:45 PM IST: Hello and welcome to live coverage of the last quarter-final of the FIFA World Cup 2018 between Russia and Croatia!
Any team boasting a player of Luka Modric's quality can afford to dream, especially when he is supported by Ivan Rakitic and Mario Mandzukic.
Croatia can expect a hostile reception at the Fisht Stadium on Saturday. For a country with a population of barely 4.3 million to beat a host nation of more than 142 million would be some achievement. But they certainly do not lack belief.
Personalise your news feed. Follow trending topics