Biodiversity park exemplifies sustainability, too valuable an asset to lose, say experts
The campaign to save the Aravalli Biodiversity Park (ABDP) continued to gain momentum on October 30. Dissent on social media also gained steam, fuelled by hashtags including #SaveBiodiversityPark and #NahiToNHAI.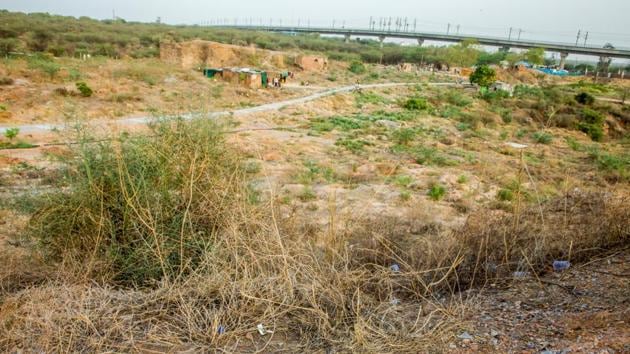 Updated on Nov 03, 2018 04:17 PM IST
Hindustan Times, Gurgaon |
, Gurugram
Prayag Arora-Desai
The campaign to save the Aravalli Biodiversity Park (ABDP) continues to gain momentum, accruing close to 20,000 signatures via an online petition till October 30. Dissent on social media also gained steam, fuelled by hashtags including #SaveBiodiversityPark and #NahiToNHAI.
Protesting residents are considering presenting a citizen's charter to Haryana chief minister Manohar Lal Khattar, to convey their condemnation of an impending two-kilometer-long, six-lane expressway which threatens to subsume a third of the park's 380 acres.
On October 30, five activists called upon chairman of the National Highways Authority of India (NHAI) Sanjeev Ranjan, and apprised him of their concerns.
Experts said the proposed project will destroy one of the National Capital Region's (NCR's) most important urban forests, in turn eradicating the habitat of scores of bird and animal species. "The very nature of the land will change, resulting in adverse ecological ramifications with respect to air, water and soil," warned environmentalist Vijay Dhasmana, who has, over the last six years, helmed the park's restoration to its current biodiversity-rich state.
At present, the park features at least 1,01,715 trees belonging to 400 native species, at least 43,284 shrubs, herbs and climbers, and about 40 different types of grass, which, in turn, provide a habitat for 183 species of birds and at least 38 species of butterfly.
"In contrast, New York's Central Park occupies 823 acres, but houses only 283 species of birds," said birder Sourajit Ghoshal, who has authored a book on ABDP's avian population.
The park also provides sanctuary for various mammals and reptiles, including nilgai, mongooses, civet cats, jackals, monitor lizards, vipers and geckos.
Noted environmentalist Pradip Krishen said the park is too valuable an asset to lose because it "exemplifies sustainability." Parks in India have historically been developed as ornamental spaces, with pruned hedges, manicured lawns and non-native flora. "This takes a lot of resources and the problem with resources is that they are finite," Krishen said. Such enterprises, like Delhi's Lodi Garden, require large amounts of fertilizer, water, and maintenance. "It's all showy, and belies a poor ecological perspective from state horticulturists," Krishen added.
Moreover, this model is often replicated in other areas, to disastrous results. "Take the Buddh Jayanti park, which was set up in 1968 in Delhi's Central Ridge area, in an arid terrain similar to the Biodiversity Park. Here, they planted species you would find in the Lodi Garden, which has water lying just below its rich alluvial soil. However, the Buddh Jayanti Park is now unraveling at the seams because no one foresaw this basic difference in climate or how it would affect the growth of vegetation," Krishen explained.
On the contrary, when natural conditions are allowed to flourish, as is the case in ABDP, positive ecological effects are felt far beyond what meets the eye. The Biodiversity Park requires no additional water or daily maintenance, and is completely self-sustaining, thus preserving precious resources and labour.
In the GMDA's vision of 9 square metres of green space per citizen, the park can potentially contributes 11% of Gurugram's green area. It is also a vital groundwater recharge zone, contributing 320 million litres of water annually.
A report by the Centre for Environment Research and Education (CERE), states that the park generates about 7.07% of Delhi's oxygen demand, while having a natural carbon dioxide sequestration capacity of 28,598 metric tonnes every 15 years.
Carbon dioxide sequestration is a process by which inorganic carbon dioxide can be stored over long periods of time, through processes like photosynthesis, thereby mitigating the effect of global warming.
However, this was not always the case, said Latika Thukral of IAmGurgaon, an NGO which played an instrumental role in shaping the ABDP. Until about eight years ago, the park was a desolate site, ravaged by years of indiscriminate stone mining to feed a booming real estate industry.
"At the time, the area suffered from poor groundwater levels, soil degradation, and other plant species were unable to grow because of the influence of proposis juliflora, an invasive species," Dhasmana said.
In 2010, a year after the formation of the MCG, citizens came together under the aegis of Thukral's NGO and kick-started one of the region's most remarkable ecological transformations. Eight years on, the park helps control the city's microclimate, mitigates vehicular emissions, promotes cloud formation and local precipitation, and acts as a dust trap to control air pollution.
"If the NHAI is allowed to break into the heart of the forest, as it plans to, we will lose all of these benefits," Dhasmana cautioned. The expressway, if built, will also result in a loss of 1.8 crore litres of groundwater recharge each year, he said.
Close Story