Eco-friendly idol immersion makes its debut in Gurgaon
Oct 12, 2016 01:17 AM IST
Some societies have adopted eco-friendly ways of carrying out the immersion of Goddess Durga's idols
Some Durga Puja associations in the city have adopted eco-friendly ways of carrying out the immersion of Goddess Durga's idols that took place on October 11, the last day of the Durga Puja. The idol immersion takes place on the 10th day of Durga Puja and idols are usually immersed in local water bodies. However, the DLF City Durga Puja and Bengali Cultural Association and the Bangiya Parishad of Sector 56 have done something different this time.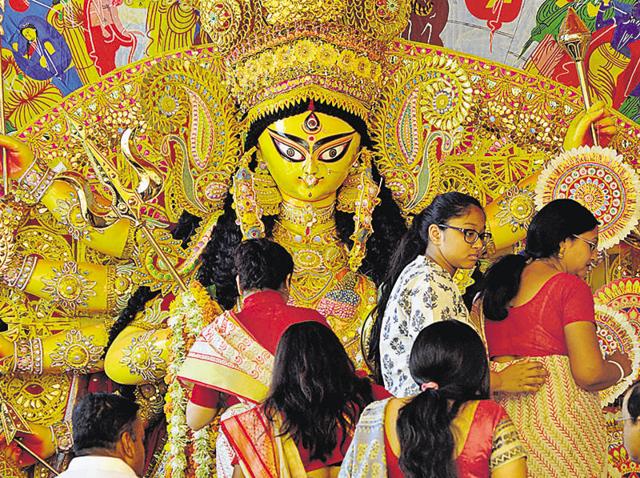 "Unlike previous years, when the idols were immersed in the Yamuna or in local water bodies, residents and local bodies came up with the idea to immerse the idols in a large pit dug up in an area and filled with water. After the idol was immersed, the pit was covered with soil," said Ranabir Majumdar of DLF Phase 1.
"The idol was made of straw and mud, which is eco-friendly and does not affect the environment," said Partho Dey, secretary of Bangiya Parishad of Sector 56.
Meanwhile, before the immersion of Goddess Durga's idols in water bodies, residents of the city took part in the last rounds of prayers and rituals in various pandals across the city.
The day started with devotees gathering at various community centres to offer prayers for Bijoya Dasami, chanting mantras and offering flowers. The day was also marked by a ritual called Sindoor Khela, which is preceded by bidding farewell to Goddess Durga's idol by offering sweets and prayers.
As part of Sindoor Khela, women dressed in white and red sarees apply 'sindoor' (vermillion powder) on the idol's forehead and then smear each other with it. "Women smear the goddess' forehead with the vermilion, wishing her marital bliss. On this day sindoor, paan and sweets are distributed. We are sad and yet in hope as we wait till it's time for her to come back again," said Sushant Patranobis of Sector 31.
Thousands of people joined the immersion processions taken out by various societies in different parts of the city. "Every year we visit Kalindi Kunj in Delhi for immersion of Durga idol," said Subir Ghosh, president of Sushant Lok Cultural Society. Some residents also immerse the idols at various ghats along the river Yamuna in Delhi.