Gurgaon: Green activists allege fresh incursion into Mangar
Environmentalists claimed that construction material, ferried in trucks, were dumped in the area for building a concrete structure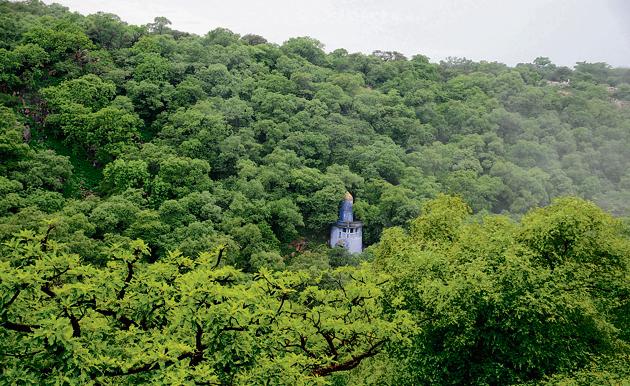 Updated on Jan 06, 2018 09:42 PM IST
Environment activists on Saturday alleged fresh encroachment and unauthorised construction in the Mangar Bani area of the Aravallis.
They claimed construction material, ferried in heavy vehicles, was dumped in the Mangar Bani area for building a concrete structure.
Acting on information, the forest department seized the construction material and filed a report against unknown persons.
The activists alleged that the area where the construction material was dumped comes within the ambit of section 4 and 5 of the Punjab Land Preservation (PLPA) Act of the Union ministry of environment and forests and chopping of trees without permission is prohibited.
They further claimed that construction material was dumped over the same 2-acre area in Mangar on December 24. They said about 100 full-grown trees close to Mangar Bani, also known as the sacred grove, were chopped in the recent past to free up space for construction.
Read I Mangar near Gurgaon falling into private hands
"Such activities are fairly common and happens mostly on weekends when forest guards are off duty. Unscrupulous elements exploit the glaring security loopholes on weekends to wreak havoc inside the forest," Jitender Bhandana, a green activist associated with Save Aravalli, an NGO, said.
On December 29, environment activists claimed that an unauthorised boundary wall had been raised in the Aravallis, in the Faridabad division between Ankhir Chowk and Siddhadata temple.
They also claimed construction of an unauthorised road in the Aravallis, along the Gurgaon-Faridabad highway, in the vicinity of a toll point close to the Bandhwari village.
Although the forest department has received a number of complaints on encroachment in the Aravallis, not a single step has been taken as yet, the activists alleged.
"Haryana has less than 4% forest cover. Is the government waiting for the forest cover to shrink further before it acts?" Vivek Kamboj, another environment activist, said.
A forest department official said that they are in the process of drawing up a plan to step up monitoring in the Aravallis. "We will conduct a probe into the allegations. We have received multiple complaints of unauthorised tree felling and dumping of garbage and construction debris inside the Aravallis. We will send a team to monitor the area and curb such illegal practices," D Hembram, conservator of forest, South Haryana, said.
Close Story