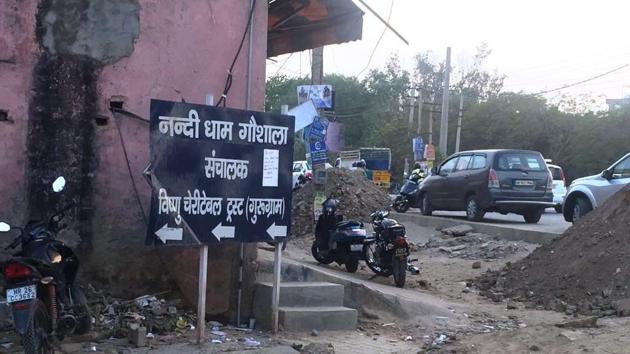 Gurgaon: Police files case against illegal cowshed after Khattar takes note
MCG takes action after a complaint was received at the CM window against three men for encroaching an acre of public land
PUBLISHED ON APR 01, 2018 11:37 PM IST
The Gurgaon police registered a case against three men for encroaching government land in Choma village near Palam Vihar after the issue was brought to the notice of Haryana chief minister Manohar Lal Khattar during the district grievance redressal committee meeting on Saturday. The Municipal Corporation of Gurugram (MCG) filed a police complaint in the matter immediately after the meeting.
According to MCG officials, Krishna Lamba, a resident of Sector 5 had registered a complaint at the CM window on March 14.
The complaint stated that three men had built their houses, a park and a cowshed (nandigram gaushala) on 7.5 acres of land.
Of this, the 'nandigram gaushala' was situated on one acre of land that belongs to the state government.
In its reply, the MCG told Lamba that they had written to the Gurgaon police on several occasions for a police force to carry out a demolition drive, but due to their unavailability, no action had been taken.
Lamba, who was present during the meeting on Saturday, brought this issue to Khattar's attention. Khattar directed MCG officials to verify whether the concerned property was Panchayat land and accordingly take necessary measures, while lauding Lamba for his courage.
"While registering my complaint on the CM window, I had also attached a ₹10 lakh cheque for the state government to encash if my complaint was found to be untrue. The CM has assured me that my cheque will be returned and the matter will be addressed," Lamba said.
The MCG's complaint to the police stated that according to a land revenue officer report, more than an acre of civic land had been encroached upon.
"Notices have been issued to the offenders under Section 408 of the Haryana Municipal Corporation Act, 1994. The MCG has also approached the Gurgaon Police for their assistance. The matter will be quickly resolved," Sudhir Singh Chauhan, Senior Town Planner, MCG, said.
Based on the MCG's complaint, the Gurgaon police have registered a case against the accused, identified as Surender Mandal, Upender Mallik, and Sunil Gulia—all residents of Choma village.
"Investigations are in progress with the coordination of MCG officials," Vikram Nehra, Palam Vihar station house officer said.
A case against the three accused has been registered under sections 34, 188, and 447 of the Indian Penal Code and Section 3 of the Prevention of Damage to Public Property Act.
Close