Gurgaon's metro expansion plan approved, but no clarity on routes
A call is yet to be taken on whether the extended line will pass from Subhash Chowk towards Hero Honda Chowk or Rajiv Chowk or both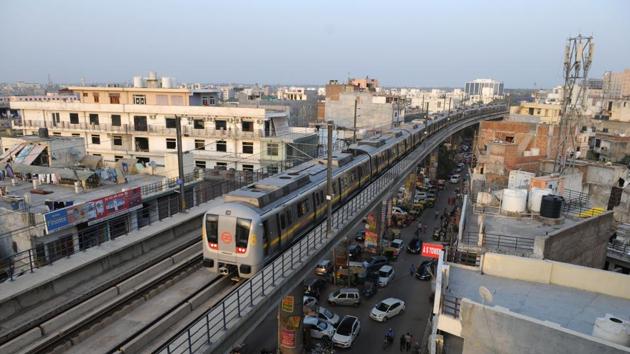 Published on Jul 10, 2017 12:03 AM IST
A day after state government officials agreed on linking Huda City Centre metro station to Gurgaon railway station through a new metro corridor, there's little clarity on the prospective routes for the same.
After the meeting held on Saturday between officials of state and central governments, it emerged that there is a contention over two routes — one leading from Hero Honda Chowk towards the railway station and another from Rajiv Chowk towards the railway station.
The Haryana government on Saturday directed officials to prepare a detailed project report (DPR) for the metro extension project from Huda City Centre metro station.
Both these lines had been proposed by Delhi Metro Rail Corporation (DMRC) to the Haryana government earlier, but were rejected owing to concerns over feasibility.
For now, sources said there is a high possibility that the extended line will head from Huda City Centre metro station towards Subhash Chowk and culminate at the railway station. However, whether the line will pass from Subhash Chowk towards Hero Honda Chowk or Rajiv Chowk or both is yet to be ascertained.
An analysis of the proposed lines throws up some pros and cons. The route from Hero Honda Chowk will cover industrial areas and could likely record a high ridership, largely comprising daily wage earners and professionals. The plan includes extending the line towards sectors 9 and 10 and culminating at the railway station.
However, this route may not cover residential areas falling on the right of Delhi-Gurgaon Expressway, including Civil Lines, sectors 14, 10, 4, 5, 3 and 12.
The route from Rajiv Chowk will be shorter and directly pass from the expressway towards Sector 14 and Civil Lines on the way to the railway station. This line will ensure that residential areas of Old Gurgaon are covered, but the ability to generate high ridership may be a concern.
Gurgaon MLA Umesh Aggarwal, who had in February 2015 submitted a proposal on the Rajiv Chowk route to Haryana urban development authority (Huda) officials, put forward his views on the proposed routes. "Both the lines will run into complications as several underpasses and flyover projects are planned at the Hero Honda Chowk and Rajiv Chowk. There can only be clarity once the DPR is prepared. It is important that the final route which gets selected, is one which has the highest ridership viability," Aggarwal said.
The state in April had directed Japanese company Mitsubishi to compile and submit its feasibility report on the Iffco Chowk-Gurgaon railway station link and Iffco Chowk-Sector 21 link after the company claimed that it could construct the two lines at a cheaper cost than other firms. The company's feasibility report is awaited.
Close Story