Hurdles dog Ghata check dam project in Gurgaon
Published on Jan 27, 2017 10:36 PM IST
The construction of check dams on the Ghata lake in Gurgaon was supposed to start in September 2016, but forest department is waiting for government to approve funds.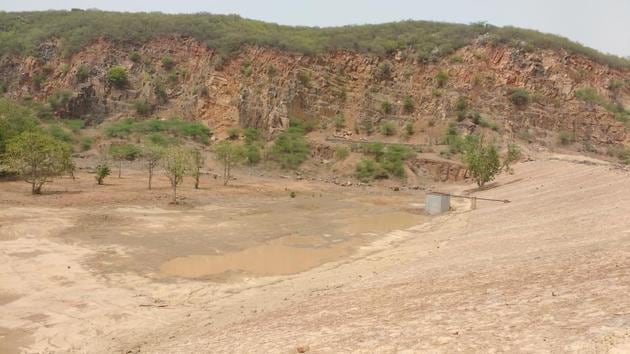 The proposed construction of check dams on the Ghata lake, which was supposed to start in September last year with an aim to hold the runoff from the Aravalli hills, is still caught in the red tape, even though authorities say the project would kickoff by February first week.
Though the forest department and divisional commissioner have held a series of meetings to for release of funds for construction of the check dams, they are yet to get approval from the government.
Read: Forest dept's Ghata flood control project still in limbo
The initial proposal was to construct 250 check dams on the Ghata Lake. However, after the forest department conducted a ground analysis of the area, it was found that most of the units were not traceable. The units were proposed for the project based on imageries taken by satellite HarSAC, but it the areas remained untraceable on ground. The project was revised thereafter, and the new proposal outlined five check dams to be built.
The current proposal by the forest department estimated the project cost at R2.15 crore to construct the five check dams, from an earlier estimate of R14 crore for 250 dams.
Read: Forest department proposes five check dams in Ghata to prevent waterlogging in Gurgaon
Once the project gets completed, it is expected to hold the runoff water that usually leads to waterlogging in areas adjacent to Ghata, Wazirabad, Silani, Haiderpur Viran, Chakkarpur and Nathupur.
The city has faced waterlogging on Friday after just one day of rain. Environmentalists say the situation will be much worse during monsoon.
"The civic agencies are not learning any lessons. They are repeating the same mistakes over and over. Till now, the Ghata protect has not yet started and the city will again see waterlogging when monsoon comes by June," Said Vivek Kamboj, a green activist.
Meanwhile, Gurgaon divisional commissioner D Suresh said, "We will decide on planning of the project on the first week of February. The project will start soon after the meeting. We have scheduled meetings with the forest officials as well."
Read: 250 water pits planned in Ghata village could have saved Gurgaon from havoc
A senior forest officer said, 'The work will start when we get clarity on funds. We are in talks with the district administration to start the work before monsoon. "
Ghata Lake, a seasonal water body, was documented in the Gazette of India (1883). The natural lake and the bund used to have enough water till five years ago, and it used to be more than 50 feet deep. The proposed water harvesting structures was supposed to hold the runoff from the Aravalli hills.