Ryan International School murder: SC to hear boy's father's plea for CBI probe
Updated on Sep 11, 2017 11:33 AM IST
The father of the Class 2 boy who was killed at Ryan International School in Gurgaon says the murder was planned and police failed to probe the conspiracy angle.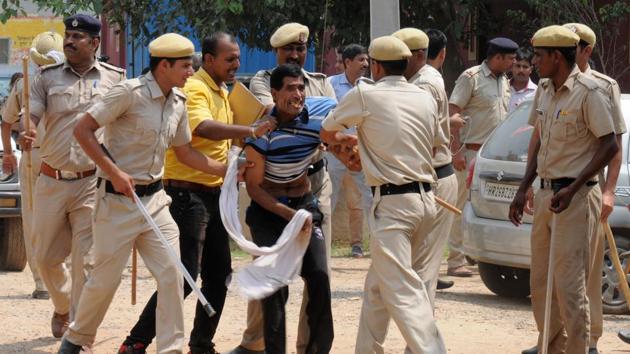 The Supreme Court will hear on Monday the petition of the father, whose eight-year-old son was killed inside Ryan International School near Gurgaon, for a CBI investigation into the "cold blooded murder" and seek guidelines for school managements in cases of security lapse.
The Class 2 student was found with his throat slit outside a toilet at Ryan International in Bhondsi, near Gurgaon, on September 8. A day later, a 42-year-old school bus conductor was arrested after publicly confessing to killing the boy, who he had allegedly tried to abuse sexually.
But the parents think there is more to the murder.
"It is not possible that my son was killed within 10 minutes of entering the school without any motive," the boy's father told Hindustan Times on Sunday. His son had seen something in the school and that was the reason he was targeted.
"The accused was already in the toilet with a weapon and he only targeted my son whereas more than 10 children had used the toilet that day," he said.
In the petition, he will highlight the alleged loopholes in the police investigation, making a case for a CBI probe and comprehensive guidelines for all schools so that such incidents were not repeated.
"The cold blooded murder was a conspiracy and more people were involved in the murder," his lawyer Sushil Tekriwal said.
The father, who would also seek police protection, accused the school management, which is under fire over the murder and its failure do a background check on the conductor, of tampering with evidence.
"The school management is responsible for negligence in providing safety and security to the students," he said.
A panel probing the murder found that around 40 adult staff, including drivers and conductors, shared toilets with students, sources said. Toilet windows were broken and there were no guards.
Police found that the bus conductor was sacked by another school eight months ago for his "sexually predatory behaviour".
They would seek guidelines so that school managements provided and were held accountable in case of a security lapse, Tekriwal said.
Licence or affiliation of schools should be scrapped for failing to comply with the guidelines that should be drawn up by a retired judge and implemented under the court's supervision, Tekriwal said, suggesting a security audit.
The school management was on Sunday charged with cruelty to a child as hundreds of parents tried to enter the private school, prompting police to a cane-charge.
About a dozen people were detained for arson and rioting and many more wounded in the police action. Cameras of some photojournalists were also damaged.
Close Story
Personalise your news feed. Follow trending topics