Avengers fans in tears after Robert Downey Jr responds to Chris Evans' Captain America farewell
Oct 07, 2018 01:37 PM IST
Robert Downey shared yet another picture comparing him and Chris Evans to Buzz Lightyear and Sheriff Woody from Toy Story.
Chris Evans broke a million heart on Thursday when he said a final goodbye to the Avengers and the Marvel universe after wrapping his final movie as Captain America in the franchise, Avengers 4. The farewell note was drenched in the tears of his fans and even his colleagues in Hollywood.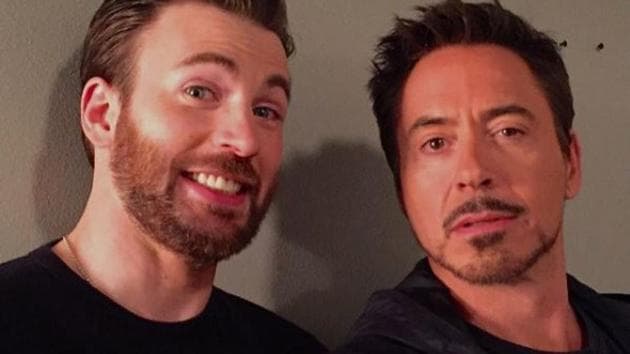 After Ryan Reynolds and Dwayne Johnson, Robert Downey Jr has also shared a personalised message for Chris. The actor posted a picture of Toy Story's Buzz Lightyear and Sheriff Woody dressed as Iron Man and Captain America. "We all know who the real sheriff in town is @ChrisEvans," he wrote in a tweet.
Chris retweeted the picture and wrote, "This guy" with a crown emoji. Robert and Chris share great camaraderie which is loved by their fans across the globe. When not pulling each others' legs, they put up the cutest displays of affection, often indulging in adorable bromance.
Even the fans are getting emotional:
In his farewell tweet, Chris had written, "Officially wrapped on Avengers 4. It was an emotional day to say the least. Playing this role over the last 8 years has been an honor. To everyone in front of the camera, behind the camera, and in the audience, thank you for the memories! Eternally grateful." He had said it before the release of May's Avengers: Infinity War that Avengers 4 will be his last movie in the MCU.
The tweet was met with great shock and sadness among his fans and friends. "I'm not crying. I'm weeping. There's a difference," Ryan Reynolds wrote in a tweet. Dwayne Johnson wrote, "What a run you had brother. Congrats on breathing life into such an iconic character. Keep on keepin' on."
Chris has been a part of Captain America: The First Avenger, Captain America: The Winter Soldier, Captain America: Civil War, Marvel's Avengers, Avengers: Age of Ultron and Avengers: Infinity War. He will be seen in Avengers 4 for the final time in May 2019.
Follow @htshowbiz for more