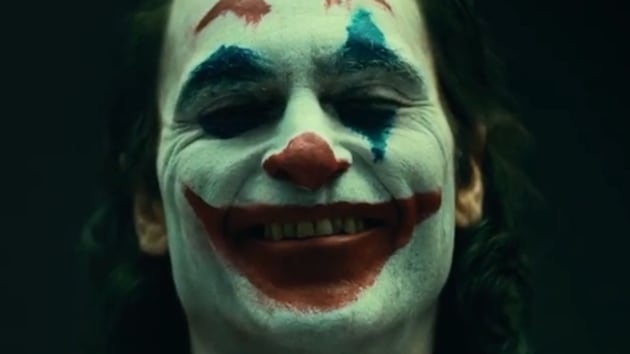 Joker: Joaquin Phoenix's first look revealed, is nothing like Heath Ledger's
Three-time Oscar nominee Joaquin Phoenix's first look as The Joker has been revealed. Check out the teaser video here.
UPDATED ON SEP 22, 2018 12:22 PM IST
Director Todd Phillips late on Friday posted some test footage of Joaquin Phoenix in character as Arthur Fleck in The Joker, a standalone film about Batman's most iconic adversary, effectively unveiling his first look as the character in full makeup.
Phillips had previously shared a portrait of Phoenix in character, but crucially, without the Joker makeup. The short video almost plays like a teaser trailer, with The Guess Who's song, Laughing, playing in the background. We see Phoenix's Arthur, a long-haired, bony-faced man, stare at us as the camera tracks in. There are split second shots of Phoenix dancing as the Joker that are projected like holograms over his face, before the camera frames him in close-up, revealing him in full makeup as the Clown Prince of Crime.
Phoenix's look is unlike any Joker we've seen before. The character has been previously played on screen by Cesar Romero in the '60s TV show, Jack Nicholson in Batman (1989), Heath Ledger in his Oscar-winning performance in The Dark Knight (2008) and most recently by Jared Leto in 2016's Suicide Squad.
Phoenix, a three-time Oscar nominee, appears to be playing an actual clown, which is a first. Leto and Nicholson's Jokers developed their strange looks after a mishap at a chemical plant, while Ledger's take was more realistic, with actual war paint smeared on his face.
Phillips' Joker movie is reportedly inspired by Martin Scorsese's The King of Comedy and Taxi Driver. Certainly, videos that were leaked from the sets a few days ago revealed the time period to be around the '70s. The film also stars Robert De Niro in a supporting role, who played the lead in both King of Comedy and Taxi Driver to great acclaim.
The Joker will serve as the first entry of DC's new DC Dark line of films, which will reportedly not be a part of the poorly received DC Extended Universe (DCEU). Leto is expected to continue playing The Joker in at least two DCEU films.
Follow @htshowbiz for more

Close