Joaquin Phoenix's first look as The Joker revealed, more set videos and pictures leaked
Updated on Sep 17, 2018 10:35 AM IST
Director Todd Phillips has shared the first official look of Joaquin Phoenix as The Joker, hot on the heels of several set pictures and videos being leaked online.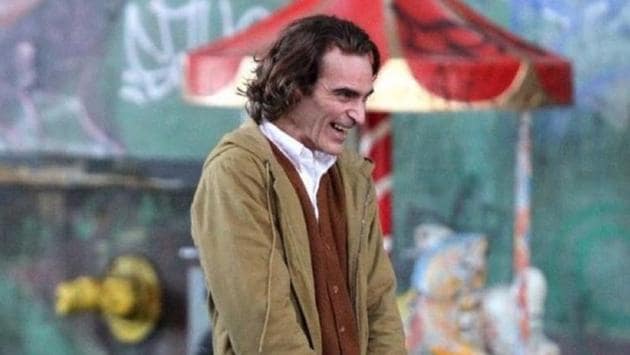 It seems like only yesterday that fans were reacting divisively to the first look reveal of Jared Leto as the Joker from Suicide Squad, and now we have a new take on the character to form opinions about. Director Todd Phillips has shared the first official look of Joaquin Phoenix as the Clown Prince of Crime, hot on the heels of several set videos and pictures being leaked online.
While the picture doesn't show Phoenix in full makeup, we get a sense of the direction they're taking with the character. But most importantly, we get a name. According to Phillips' post, the character will be called Arthur.
In the leaked videos from set, we can see Arthur having an animated discussion with a large man dressed up like a clown. Their conversation takes them to the streets, where we can see Arthur cackling and smoking a cigarette.
The film, the first solo movie centred around the popular Batman villain, is being executive produced by legendary filmmaker Martin Scorsese. It has been reported that the film will be inspired by Scorsese's The King of Comedy and Taxi Driver. Certainly, the leaked videos reveal the time period to be around the '70s, considering the old-school taxi cabs that drive past. The film also stars Robert De Niro in a supporting role, who played the lead in both King of Comedy and Taxi Driver to great acclaim.
Phoenix is a three-time Oscar nominee, considered one of the most acclaimed actors of his generation. He was previously courted to star in Doctor Strange, but passed on that role, which went to Benedict Cumberbatch.
The Joker has been previously played on screen by Cesar Romero in the '60s TV show, Jack Nicholson in Batman (1989), Heath Ledger in his Oscar-winning performance in The Dark Knight (2008) and most recently by Leto in 2016's Suicide Squad. There are plans for Leto to reprise his role in at least two different projects.
After the disappointing critical reception to their DC Extended Universe of movies, Warner Bros hopes for the Joker movie to start a new spin-off series of one-shot movies based on DC characters as the DCEU is retooled with the upcoming Aquaman and Shazam!
Follow @htshowbiz for more
Personalise your news feed. Follow trending topics