Early Childhood Learning is a crucial investment
May 20, 2022 02:32 PM IST
The article has been authored by Prerna Jhunjhunwala, educationist and founder, Creative Galileo, an edu-tech startup
Educators and Early Childhood Education (ECE) practitioners welcomed the National Education Policy (NEP) 2020 because it prominently mentions ECE, which has remained a relatively neglected field in previous policy documents. The NEP 2020 envisages a five-year foundational stage of education: Three years of ECE and the first two years of primary school.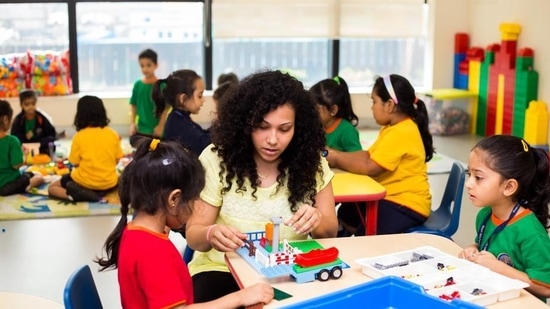 In other words, ECE is now supposed to extend from ages three to eight. As per a UNESCO report, despite rapid progress in the past two decades, the pre-primary gross enrolment ratio stood at 61.5% worldwide in 2019, the pre-pandemic period. ECE is one of the best investments parents can make to prepare their children for quality learning. Children who benefit from inclusive early education are better prepared for primary school and develop better learning outcomes. Repetition and drop-out rates in primary school are reduced with attention to early childhood education.
Parents are the first teachers of a child. During the first few years of life, a child learns a lot about themselves and the world around them. Even though the parents train the child to walk, to speak, to convey their feelings and to attend to the nature's call as and when required besides teaching them about alphabet, shapes and colours, and even how to count and spell very simple words, for healthy development, children need active stimulation and interaction with others. This is where early childhood education is the most beneficial. The classroom allows the children to apply what their parents have taught them to a practical setting and have their first interactions with people outside of their family.
Children from literate homes have exposure to print rich environments from their surroundings and they already have an understanding of some of the foundational literacy and numeracy concepts, and they learn the remaining when they come to pre-school. However, children who come from such backgrounds which are not literate, such as first-generation school-goers, or single working parents have to depend solely on the pre-school to learn these ideas. In such cases, ECE plays a very important role. Anne Steinhoff, one of the bloggers for a foundation working on pre-school projects writes, "Studies have shown that children learn by using their senses. It is assumed that the sense of sight and hearing are the most important senses in the learning process. Shepherd Chimururi, the executive director of an audio and visual learning company in Zimbabwe, observed the positive impact of both audio and visual elements in the classroom. When he compared the abilities of two children, he realised that the child who had watched a video of a trumpeting elephant had a longer lasting and clearer image of the scenario than the child who had only seen a picture of the elephant. E-learning has this positive impact on learning because children develop better hand-eye coordination and motor skills. These skills help them to form clearer images and improve their capabilities to solve problems."
The children's early learning is complex and multifaceted. The encyclopaedia on early childhood development states, "While one of the attractive features of tablets is that children, from an early age, can use devices independently, research repeatedly shows that social interaction supports learning. Apps should support, rather than replace, this interaction. Increasingly, app developers are beginning to promote off-screen or hybrid experiences where children play an app together or parents are included in the app experience. In some apps the technology requires children to work together to play games or solve problems off-screen with the device playing moderator instead of partner." Post- Covid, the intervention of technology in the educational space has become inevitable. The health hazards are no doubt a big concern for the early childhood practitioners, but the contribution of technology in generating stimulation and interaction among the children through various modes cannot be denied. And the larger question is how much screen time is too much for children? Parents need to allow screen time very responsibly, creating a fine balance between online and offline activities.
When children develop a wide range of socio-emotional skills like invention, imagination, persistence, attentiveness to tasks, as well as the ability to form relationships and manage feelings during their ECE days, they are generally more successful when they start school. Early childhood education focuses on "learning through play" by providing a hands-on, interactive atmosphere where children learn about themselves, their surroundings through playing with other children. Their first source of guidance in playing with others, socialising and forming friendships.
(The article has been authored by Prerna Jhunjhunwala, educationist and founder, Creative Galileo, an edu-tech startup)