Barack Obama at HTLS highlights: I like PM Modi, I was also friends with Manmohan Singh
Dec 01, 2017 02:38 PM IST
On Day 2 of the Hindustan Times Leadership Summit, IT minister Ravi Shankar Prasad, Chhattisgarh chief minister Raman Singh and supermodel Naomi Campbell too will take the dais. Here are the live updates.
Former US president Barack Obama discussed India's role in the international arena and his relationship with Prime Minister Narendra Modi even as he spoke about the dangers of technology on Friday. Click here for Live telecast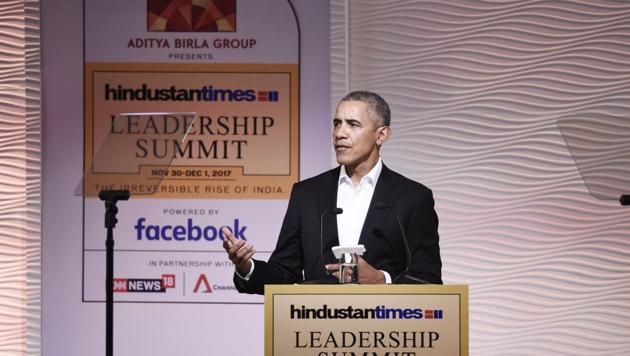 Obama opened Day 2 of the 15th edition of the Hindustan Times Leadership Summit 2017, hailing India-US ties. Highlighting what is common between the two nations, he said, "America and India are alike, being defined by many different languages, dialects genders and orientations…every caste, colour and creed."
The former US president also talked about a partnership between the world's oldest democracy and the world's largest democracy. "We can help chart course for a better future, especially when democracy is itself being questioned," he said. Click here to know more about HTLS speakers
Click here to see the full schedule
Here are the highlights:
12:29pm: "As bad as sometimes things are... we have to remind ourselves, we make progress because people of good will work and struggle together. All the institutions, values are things we can't take for granted."
12:25pm: Donald Duck or Donald Trump, which represents America? asks Thapar.
The cacophony of America is what I love about the country. The political trends are a thread of life. One of the joys and frustrations about America is that it can be contradictory. We can be kind and cruel. I think it's the same with India: Obama
12:24pm: "I use punctuation in my text," says Obama about how he tweets. His comment comes in the background of US President Donald Trump kicking up storms on Twitter over controversial posts.
"I have more Twitter followers than some people who use it more often."
12:19pm: Tools on social media platforms can be good or bad. One of the challenges is that technology can influence snap judgements about complex decisions. One of the dangers is that instead of deep analysis and evaluation, the new citizen is skimming the surface... the sizzle and not the steak: Obama
"Those who watch Fox News and those who read the New York Times occupy a difference space. If I read Fox News, I wouldn't vote for me."
12:16pm: Both of them were sound leaders, says Obama on PM Modi and former prime minister Manmohan Singh. "Dr Singh was the primary partner while we were working during the financial meltdown. PM Modi was the primary partner during making of Paris accord."
12:14pm: What is your opinion of Narendra Modi? I like him, replies Obama, adding: "I think he has a vision for the country... He is modernising elements of bureaucracy."
I was also great friends with Dr (Manmohan) Singh... when you look at the steps Dr Singh took to modernising the economy; it was the foundation for modernising Indian economy: Obama
12:12pm: We had no evidence that Pakistani government was aware of Osama bin Laden's presence in Abbottabad. We obviously looked at it: Obama
It is very important for you to stop making comments from my side, Obama jokes.
12:11pm: Although Pakistan has been a partner in many ways, it's also true there are elements that have not been good partners with us, says Obama.
He refuses to name the elements.
12:10pm: After 26/11, we (US) were as obsessed with dismantling the terror network as India... terrorism of any sort, directed at any country metastasises. It eventually affects everyone: Obama
12:08pm: We worked very hard to get India into the Nuclear Supply Group, we did not get the cooperation of every country, says Barack Obama.
12:03pm: On the nuclear reliability act with India, Barack Obama says his goal was to give US companies an opportunity, not to ensure that their deal goes through.
12 noon: "Politicians are often reflections of forces in the society."
If you see a politician doing things that are questionable, one of the questions you can ask yourself as a citizen is 'am I encouraging this?' If communities across India say they won't fall prey to division, then it will strengthen the hand of politicians who feel that way: Obama
11:59am: How did PM Modi respond, asks Karan Thapar.
My goal here is not to disclose every private conversation I have. I think his impulses are to recognise Indian unity. I think he (Modi) firmly believes unity is necessary for the progress of the nation, says Obama.
11:58am: "Particularly in a country like India, you have such a huge Muslim population that feels integrated. And that is unfortunately not always the case in other countries. That is something that should be cherished and nurtured."
11:56am: It was a message to everyone. I have said the same thing privately to PM Modi. It's happening across the world due to the changes taking place. There's a collision of cultures: Obama explains his previous statements on tolerance and freedom of faith.
"Obama says his message of diversity in 2015 was for all people; he also mentioned it privately to PM Modi."
11:54am: "Ah, no, making a chapati is too hard," says Obama on knowing how to make roti.
11:52am: "I'm pretty sure I'm the first US president to have the dal recipe. My keema is also excellent... my chicken is okay," Obama quips.
11:51am: Obama jokes about telling his daughters what Indians think of him after chair Karan Thapar tells him about a research that found majority of Indian citizens think favourably of Obama.
11:50am: "If India and US are working together, I believe there is no problem we cannot solve," Obama says, concluding his speech.
11:48am: For those who believe in democracy have to speak out on issues. And that's why I am speaking as a private citizen, says Obama.
11:45am: Obama says he is "obsessed" about the role of technology in this age of information and its impact on the younger generations.
"We have to recognise how technology is changing how the youth is consuming information. It is easier to retreat into our bubbles. This poses great danger."
11:43am: We have to work in a multilateral manner. I appreciated the critical role PM Modi and India played in forging the Paris climate deal, says Obama. "It is a deal even though we have pause in American leadership…"
11:41am: We can't pretend automation doesn't exist, we can't ignore globalisation. But we can invest in our people's skills... We still need to do more to close the gap between rich and poor nations: Obama
11:40am: Modi and I met an unprecedented 9 times. All our challenges will be met when India plays a major role on the world stage: Obama
11:39am: The partnership between the world's oldest and largest democracies is a defining one, says Obama on India-US ties.
"There are millions of Indian Americans making extraordinary contributions, building bridge between our countries. America and India are alike being defined by many different languages, dialects genders and orientations…every caste, colour and creed."
11:36am: Speaking about the negative impact of technology, Obama says it makes people want to try and find stability amid all the changes. "We've gone through moments like this before...from agricultural to industrial sectors... it's important for us to push back against the politics of us vs them. We have to build on what is in common between us."
Our history together speaks about a common set of values - pluralism and tolerance, a liberal market based order that places primacy on individual rights:
11:34am: The world, by most measures, is less violent than human history although conflict remains: Obama
11:33am: The international order we have sacrificed so much to retain has become increasingly strained... globalisation, terrorism, inequality have led to that: Obama
11:32am: America and India are defined by diversity, Obama says, asserting: "We have much in common."
11:31am: Recounting his visits to India, Obama says he was proud to be the only US president to visit India twice while he was in office.
"Michelle resents that I did not bring her on this trip."
11:30am: Barack Obama begins his speech. "It's wonderful to be back in Delhi."
11:25am: Barack Obama arrives at the summit venue.
11:20am: This will be Barack Obama's first address in India since his tenure ended as US president earlier this year.
11:07am: Supermodel Naomi Campbell, Reliance's Mukesh Ambani and Congress vice-president Rahul Gandhi are in attendance.
Ambani and Campbell will be speaking after Obama's address on Friday.
11am: The special address by former US president Barack Obama will begin shortly.
Highlights from Day 1 of HTLS
• Bollywood star Salman Khan was at his witty best despite a sore throat at HTLS 2017. During the final session of Day 1, Khan said he led a "very boring life" and it was only journalists who made his life sound "interesting". Besides that, he waltzed around the bouncers and dodged around difficult questions, clarifying his political correctness at the beginning of the session.
Read the full story here
• On Day 1 of HTLS 2017, founders of three Indian startups discussed their strategies as successful entrepreneurs. Their approaches: a sense of purpose, believing you are Superman, and the ability to juggle "ticking time bombs".
Read the full story here
• Speaking at HTLS 2017, finance minister Arun Jaitley said government spending on infrastructure and rural sectors will be the focus areas in next year's Union Budget as he ruled out privatisation of state-run banks. He also hinted that the GST council could consider merging slabs of 12% and 18% into one rate and cutting the number of items taxed at the highest slab of 28%.
Read the full story here
• Cancer specialists Dr Ahutosh K Tewari and Dr Madhav Dhodapkar, at the Hindustan Times Leadership Summit, agreed that lifestyle changes play a major role in preventing the disease. They set the tone for the session, titled 'How to beat cancer', with the suggestion that India should open itself to a more honest conversation on the disease.
Read the full story here
• Regional food, poetry and the changing world food scenario were on the menu as chefs Vikas Khanna and Gaggan Anand cooked up a storm at the 15th edition of the Hindustan Times Leadership Summit on Thursday. Tempered with wit, India's very own Michelin Star chef Khanna and Kolkata-born and Bangkok-based restaurateur Anand had the audience eating out of their hands.
Read the full story here
• The chief executive of Afghanistan, Abdullah Abdullah, thanked New Delhi for its "generosity" at the 15th Hindustan Times Leadership Summit and said its "soft power" and collaboration was the reason why India is a rising world power.
Read the full story here
• Addressing the inaugural session of the 15th edition of the Hindustan Times Leadership Summit, Prime Minister Narendra Modi said on Thursday he was prepared to pay a political price for fighting corruption as part of his government's wider efforts to change the "broken system" of the past 70 years and improve the lot of the country's poor.
Read the full story here
"Exciting news! Hindustan Times is now on WhatsApp Channels
Subscribe today by clicking the link and stay updated with the latest news!"
Click here!