HTLS 2017: I live a boring life, but journalists make it interesting, says Salman Khan
Hindi film superstar Salman Khan, at the Hindustan Times Leadership Summit, says he has been misunderstood for 30 years.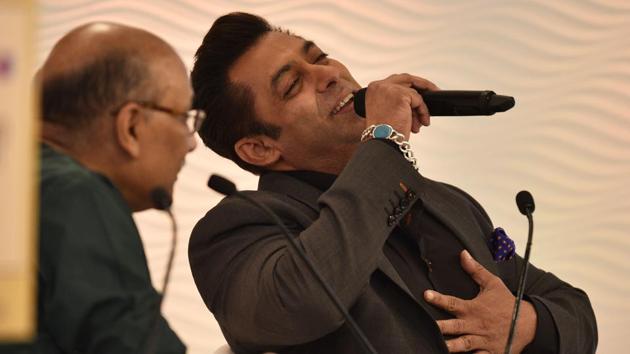 Updated on Nov 30, 2017 09:21 PM IST
It comes as a bit of a surprise when one of the country's biggest celluloid superstars says he leads a "very boring life". That's Salman Khan for the uninitiated. In a free-wheeling conversation at the 15th Hindustan Times Leadership Summit, Khan said it was only journalists who made his life sound "interesting".
During the final session of Day 1 at the summit, the actor was at his witty best despite a sore throat.
"Everyone here must have led a better life than me. I have been working 24 hours since the age of 15. I have slept in cars because there were no vanity vans and only worked all my life," Khan said, downplaying his larger-than-life image.
When Shekhar Gupta, editor of the news portal The Print, who was the session moderator, asked him what was the toughest thing about being Salman Khan, the actor mouthed a popular dialogue from his film Wanted. "Ek baar maine commitment kar di, toh main apne aap ki bhi nahi sunta… It is about the commitments that I make. Like today, in spite of being ill, I am here because I had committed," Khan said.
Dressed in a dark grey suit, Salman said that although he is 52, he is still as enthusiastic as he was earlier. When a member of the audience asked him about how he still manages to look young, the actor said: "Mentally, I am still growing up; I would be about 27 now…"
Speaking about the Harvey Weinstein sexual harassment controversy that has rocked Hollywood, Khan said he did not know of any such cases in the Hindi film industry. "I have been here for the longest time. My father has been here. Till date, I have never heard this. No one has come out and said it.
"He [Weinstein] got caught. Sometimes you push it so much that you feel it's easy. You think everyone is the same. I feel it's the most disgusting thing ever on this planet to exploit, to use someone to get them work. I hate it," said the actor, adding that would he ever come across such a case here, he would personally "take the guilty to the cleaners".
Asked about the Padmavati row, Khan said it isn't fair to hurt anyone's sentiments, but neither is it fair to comment without seeing the film. "The Supreme Court and the censor board will make the correct decision and people should respect that. I have been doing it," said the actor, referring to his legal tangles. When asked if Padmavati's director Sanjay Leela Bhansali is capable of hurting anyone's sentiments, Khan joked, "Bhansali has offended me. I gave him two hit films, and then he took Shah Rukh Khan in his next film."
Khan ended the session on a philosophical note, taking a dig at himself, when asked about how he deals with failures. "In life, not in love," asked Gupta, to which Khan responded: "Love, I am used to it! But in life, to deal with failure is difficult. But when I feel I am being targeted, I walk outside my ground-floor flat and see the watchman sleeping after doing double shifts, fans waiting outside just to get a glimpse, someone washing a car, I say to myself, enjoy your life… I have the most amazing life, my parents are healthy, brothers and sisters are doing well and the fans love us. We are blessed… 99 per cent of the population of our country hasn't seen this kind of lifestyle and love and adulation…"
Close Story