On HTLS, Jaishankar spells out China strategy: 'State of relationship will reflect state of border'
On HTLS 2021, foreign minister S Jaishankar spoke on a range of issues and identified priority areas for India. He also gave a broad outline of how India plans to have its relations with its neighbourhood as well as the big powers.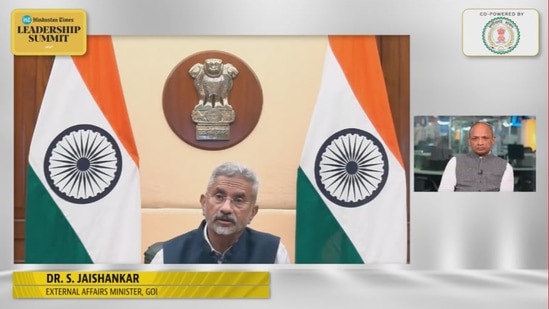 Updated on Dec 09, 2021 10:25 AM IST
Foreign minister S Jaishankar said on Thursday participated in the Hindustan Times Leadership Summit (HTLS), where he spoke about range of issues, including regional security, the state of democracy in India and the evolving situation in Afghanistan.
Speaking to foreign affairs expert Pramit Pal Chaudhuri, Jaishankar said nobody should be over-obsessed with one country or situation - talking about India's standoff with China.
"The world is constantly evolving, as we have seen in terms of geopolitical changes, US withdrawal from Afghanistan and the coronavirus disease (Covid-19) situation," the foreign minster said in his opening remarks.
When asked about the priorities of Indian government, Jaishankar said, "My number one priority would be national security. In diplomacy, I would put security above all other considerations."
Talking about the three priorities of the government, the foreign minister said we can look at this in three ways. "First is geaographic - about our neighbourhood and extended neighbourhood. The second would be big powers - the countries which shape the new world order - to ensure that we are treated well. And third would be to develop steadily large footprints and moving towards a global visibility," said Jaishankar.
But Jaishankar once again emphasised on security, saying "the stakes are very high".
The discussion then moved towards India's relations with China, during which the foreign minister said that India's neighbour broke all the agreements and accords which governed the ties between the two countries till now.
"Bringing forces to the border - it was not an impression we had or we thought we had an understanding. We had it in cold print in two agreements so there's no ambiguity on that score. There were very, very clear agreements, not to mass forces on the border. And those commitments stand violated as of 2020 spring," said Jaishankar.
The agreements that we had, now have questions against them and that is a matter of concern, he added.
"We have made it clear that the state of relationship will reflect the state of the border. You can't have tense, high-friction border and have great relations in all other parts of life. It doesn't work that way. It is inevitable that this will spill over and it has in other domains," said the Union minister.
He then talked about the Quadrilateral Security Dialogue - or Quad in short - a strategic forum comprising four nations - United States, India, Japan and Australia.
"It's important for us as Quad participants to be very clear that it is not against somebody. We have been able to demonstrate that Quad is meant for something - for cooperation during Covid times, connectivity projects, and maritime issues," said the foreign minister.
"Don't be over-obsessed with one country. Cold War and unipolar world order ended, it's time for larger international development which is a bunch of countries, whose interests are similar, coming together," he added, with reference to China.
The conversation then moved towards India's relations with the United States under the administration of Joe Biden. When asked about the voices being raised against the state of the democracy in India - in context with the democracy summit being organised in the US - Jaishankar said, "I am very confident about my the state of my democracy. My elections are not in doubt, they are not contested. My electoral process is not in doubt. My popular participation in election is rising. So, our democracy better than more countries which raise fingers on us."
The foreign minister then delved on the evolving situation in Afghanistan, saying that India has been careful about assessing Taliban, the new rulers of the war-torn country.
"The situation on the ground is a very complicated one. We really have to watch where it goes. It also justifies the prudence that we have shown that not being in a hurry… Not being led by arguments that everyone is doing it so why shouldn't we," he said.
Afghanistan came under the control of Taliban in August this year, in the wake of withdrawal of American forces from Kabul.
Topics
Close Story
Personalise your news feed. Follow trending topics