Mother of 10-yr-old Rohtak girl raped by stepfather wants husband to be set free
May 25, 2017 11:37 PM IST
She said she did not believe her daughter when she told her that her stepfather had raped her many times. "When he (her husband) agreed to have done it, only then could I believe it had happened.
The rape and impregnation of a 10-year-old girl in Haryana's Rohtak allegedly by her stepfather might have shocked India but the victim's mother wants the accused freed to take care of the impoverished family.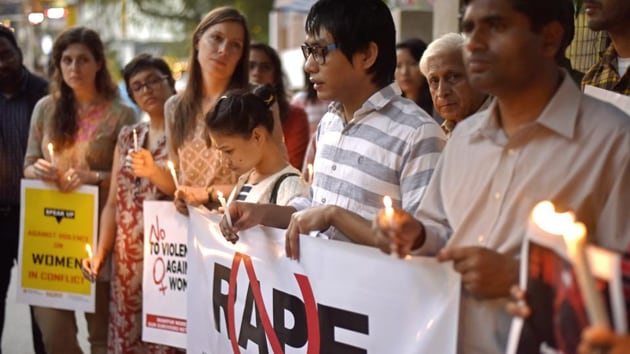 The mother doesn't believe her husband – the brother of her first husband, who fathered the rape victim – is innocent but prioritises her livelihood concerns.
"Please set my husband free. These NGOs and activists promising big things will not take care of me and my children for life. They will go within two-three days. My husband will take care of us," she told HT.
The girl is still in hospital with doctors preparing for an abortion later this week as childbirth might endanger her life. The suspect was arrested a few days ago.
The victim's parents worked as labourers. The mother earned Rs 5,000 a month cleaning homes and doing dishes and her husband earned Rs 10,000 as a worker in a private company.
The mother said she did not believe when first told that her husband – the younger brother of her first husband who died of kidney failure – had raped the girl many times. "When he (her husband) admitted, only then could I believe. I was shocked. He had been married to me for five years and I could see that he never looked at my three daughters with an evil eye," she said.
She said she had no children with her second husband because she underwent sterilisation and that he accepted the four children from the previous marriage as his own.
"After my first husband's death, I saw no life ahead with my four kids. He then offered to marry me and things looked better."
She told HT that the alleged crime was first detected when the girl complained of constant leg pain and tests at a local private hospital revealed she was pregnant. "I told the matter to the women whom I worked for, who suggested that I leave for my village to avoid shame," the mother said.
She said another private doctor offered to kill her daughter for Rs 20,000. "We are poor people, from where will we pay Rs 20,000? I didn't really want to kill my daughter anyway," she said.
Police got involved after the woman for whom the mother worked told the local police, who arrested the stepfather.
"My daughter did not like going to school. So she also worked as a labourer like me. She told me she likes doing it."