100 days of Darjeeling shutdown: A tale of survival and ordeal
The HT spoke to five residents of the restive hills to find out how they are coping with the challenge.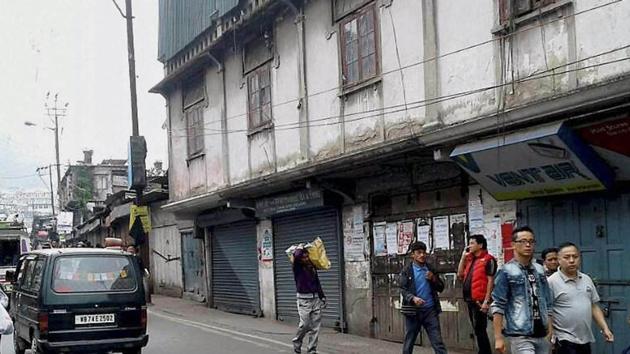 Published on Sep 23, 2017 03:51 PM IST
As the shutdown in Darjeeling notched up a notorious landmark of 100 days on Friday, the HT spoke to five residents of the north Bengal hills to find out how they are coping with the challenge.
Khanjung Bhutia: The 40-year-old homemaker from Sonada in Darjeeling is furious about the way political leaders spearheading the Gorkhaland movement are treating the common people.
Her younger brother Tashi Bhutia (28) was killed in police firing on the night of July 7 at Sonada. The mother of three has lost trust on the leaders as 12 Gorkhaland supporters died in police firing since June 17.
"Time has come for the people to teach the leaders a lesson," she said with tears in her eyes as his youngest son consoles her.
"When all the Gorkhas have come forward to sacrifice everything for the cause of Gorkhaland, the leaders have made the separate state issue just a begging bowl for them," she said.
"Only creation of Gorkhaland and punishment to the policemen who killed my innocent brother will do justice to me and my family," she said, adding no amount of money would compensate the loss.
Suresh Chettri: The 45-year-old landless agriculture labourer from Kurseong's Narbung bustee, who used to work in other people's agricultural land, is now jobless.
He spends sleepless nights as his wife and three children surviving on a mosrel. The family earns less than Rs 100 per day by selling milk of a cow they own.
Chettri and his wife Rita, both of whom though are illiterate, have a fair idea of why the bandh has been imposed. But they realise that achieving Gorkhaland is quite difficult.
The little "relief materials" that the family were receiving from Chettri's younger brother in Siliguri have stopped coming.
"We are eating small meals of only rice and dal," said Mandip, 10, the second child of the couple.
Their ramshackle hut barely keeps off the rain and cold wind. The family has only tattered cloths and blankets to keep themselves warm. "The only source of vegetables is the forest nearby where we sometimes get bamboo shoots and stinging nettle leaves and flowers," said Chettri's wife Rita.
Hari Kala Rai: The 53-year-old tea garden worker from Darjeeling's Narbung Tea Estate was forced to send her two sons to Kerala to look for odd jobs. The tea garden has closed down due to the bandh and she has already sold many of the goats she had reared.
"The family has already run up huge debt with the local money lenders and shopkeepers," said the mother of five. She has no idea when work will resume in her garden where she earned Rs 122.50 as wage every day.
Weeds have grown in the tea bushes. The disruption has also jeopardised the puja bonus that they got every year.
"I also feel pity for tea garden owners," Rai said, hurriedly driving the goats, she took to the jungle for grazing, towards home where her ailing husband is awaiting.
More than 70,000 workers in 87 tea garden in the hills are staring at an uncertain future like Rai.
Sukhman Thami: The 38-year-old porter from Darjeeling's Gausala walks five kilometres every morning to reach the town in search of work but returns empty handed almost every evening.
Thami, who came here from western Nepal's Dolakah to work as a porter five years ago, used to earn about Rs 400 every day before shutdown began.
"There is almost nothing to eat for my family of five. Most of the days I come home empty handed after waiting the whole day. Some days, when I am lucky enough, I manage to earn Rs 30," he told HT.
"My wife regularly goes to the forest in search of stinging nettle leaves and flowers that we eat as vegetables and soup," he lamented.
Most of the days Thami and his wife leave home and return home empty stomach.
"On days when I am lucky some local residents offer tea and biscuits," said the frail man.
Sandipan Ghosh: This cloud has no silver lining, said the 44-year-old businessman from Darjeeling. Ghosh is the owner of the Eastern Meadows Tours and secretary of the Eastern Himalaya Tour and Travel Operators Association.
Tourists have completely vanished from the north Bengal hills and the flow of tourists to Sikkim too has dipped to a trickle, taking a severe toll on his business.
The shutdown has forced many tour operators to down their shutters while looking for greener pastures elsewhere in Digha and Mandarmani.
Ghosh who was forced to slash the number of his drivers from 20 to 14 said. "Only a miracle can save the tourism industry that employs well over 50,000 people in the hills."
Close Story