24 Maoists killed in encounter in Malkangiri on AP-Odisha border, 2 cops injured
Oct 24, 2016 09:06 PM IST
At least 19 Maoists were killed and two of the security forces injured in an encounter on the Andhra Pradesh -Odisha border early on Monday morning.
Andhra Pradesh commandos backed by Odisha police killed at least 24 Maoists, including six woman guerillas, in a fierce gunbattle inside a dense forest along the inter-state border early on Monday.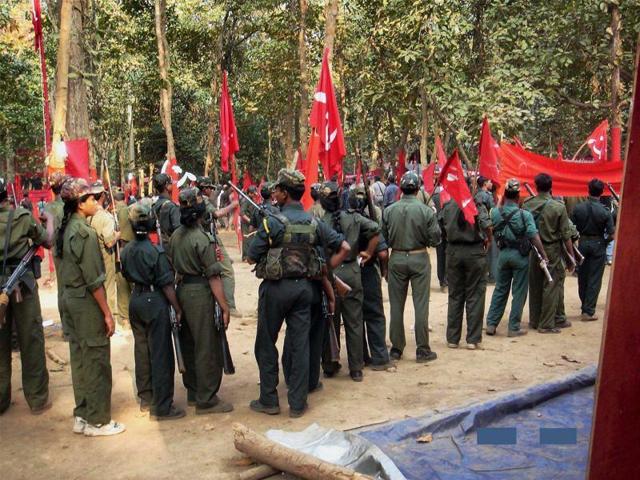 Commando Abu Baker from the Greyhounds team, the elite anti-Maoist force of Andhra Pradesh police, died of wounds in the gunfight. Another commando is battling for life at King George Hospital in Visakhapatnam.
Police refused to reveal if any top Maoist leader was among the dead, but this was the heaviest casualty the insurgents had suffered in recent years.
The Bejjangi forest area falls under Malkangiri district of Odisha, about 10km from the Andhra border, where Maoist insurgents were supposed to be holding a plenary.
A team of Greyhounds along with a joint squad of police from both states came across the rebels during a combing operation.
"The Maoists began firing immediately after seeing the police personnel. In the ensuing gunfight, 24 Maoists were killed and two Greyhound commandos were wounded," Andhra Pradesh director general of police N Sambasiva Rao said in Visakhapatnam.
Independent sources said Maoist party central committee member Chalapathi alias Appa Rao, wife Aruna, Malkangiri division secretary Gajarla Ravi alias Udai alias Ganesh, Munna, the son of another central committee member, Akkiraju Haragopal alias Ramakrishna alias RK, and Bakuri Venkataramana alias Ganesh were killed in the fight.
Ramakrishna and Ravi were Maoist representatives in talks with then chief minister YS Rajasekhar Reddy's government in 2004. The exercise failed to break the stalemate.
The casualties might also include Maoist leaders Daya, Rajanna, Bengal Sudhir, Ashok and Mallesh.
If the information is correct, this could be the biggest loss to the Maoists, who claim to be fighting for the rights of poor farmers and landless labourers, but extort money from businesses and carry out hit-and-run attacks on security forces.
Police believe Maoist leader RK was present in Malkangiri for the plenary, but managed to escape.
All the slain Maoists belong to Telangana and Andhra Pradesh. Their identity could be established after their corpses were brought to the coastal town of Visakhapatnam, an officer said.
So far, 21 bodies were retrieved from the spot. The wounded policemen were shifted to Visakhapatnam.
"Police recovered four AK-47 rifles, two SLRs and two Insas rifles, besides a large cache of ammunition. The sophisticated weapons point to the presence of top Maoists," the DGP said.
Maoist emissary and revolutionary writer P Vara Vara Rao alleged that the shooting was stage-managed, and demanded that bodies be handed to their relatives after autopsy.
The Andhra Pradesh Civil Liberties Committee, a human rights group, moved a petition in the high court challenging the killing of 24 Maoists. The court ordered the post-mortem examination in Visakhapatnam, but police said it would be done in Malkangiri since shooting happened in Odisha.
The biggest leader to die in a gunfight with security forces was Koteswar Rao alias Kishenji, whose death in November 2011 dealt a body blow to the Maoist armed struggle in West Bengal.
The level of violence has fallen in recent years, and the Maoists have lost hundreds of fighters to desertions and battles with security forces. But the rebels remain capable of staging regular ambush attacks across several states.
A year before Kishenji's death, Maoists killed 75 CRPF personnel and state policemen in Chhattisgarh's Dantewada. Prior to Monday's shooting, 10 CRPF men died during a counter-insurgency operation in the jungles of Bihar's Aurangabad district this July.
(With agency inputs from Bhubaneswar)