200 Indian tourists stranded in Nepal floods as toll hits 58
Updated on Aug 13, 2017 08:57 PM IST
Around 700 tourists, including 200 Indians, were stranded due to flooding in Sauraha in Chitwan.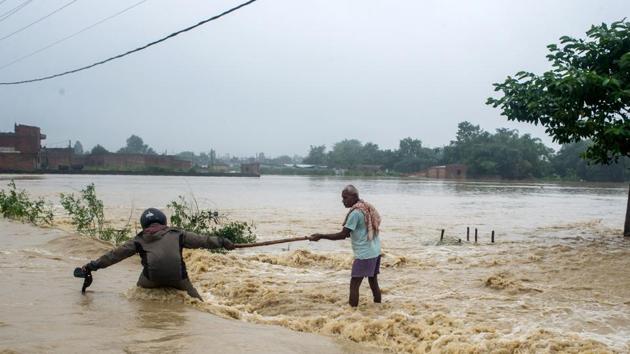 Hindustan Times, Kathmandu |
HT Correspondent
Elephants were deployed to rescue tourists stranded in Nepal's popular tourist town of Chitwan as the death toll from floods and landslides hit 58 after three days of torrential rains across the country.
The tourists were stranded in Sauraha as the swollen Rapti and Budhirapti rivers inundated many hotels in the Mid-Nepal tourist destination, according to media reports. Suman Ghimire, chairman of the Regional Hotel Association, said that around 700 tourists — including 200 Nepalese and 200 Indian visitors — were trapped and around 100 hotels were waterlogged. He also said that the vehicles of some tourists were swept away in the floods.
Some 100,000 people were displaced across Nepal and several villages are under the risk of flood and inundation after rivers flowing from north to south breached their danger levels.
The worst-affected area was the southern Terai plains, where around 40,000 houses were badly damaged, according to government data.
According to the home ministry, the death toll hit 58 and 23 people were reported missing, with the Tarai region, which borders India, the worst affected.
Thousands of acres of land were submerged and electricity to eastern Terai has been totally cut off, according to the state-owned Nepal Electricity Authority.
The region has no landline or mobile phone connectivity since Saturday as several transmission lines were destroyed. Officials said they were fixing the electricity lines.
Many highways have been blocked and floods swept away sections of the East West highway, which cuts across the width of the country. The government has mobilised security forces to start search and rescue as well as rehabilitation operations.
The home ministry has appealed people to shift to safer areas. The government has announced relief to the victims and Prime Minister Sher Bahadur Deuba addressed the nation on Saturday.
The rain is expected to continue in the coming days, according to the Nepal Meteorological Forecasting Division, raising fears that the rivers will wash away more villages.
One person was killed in Panchthar, four in Sindhuli, Jhapa and Banke each, five in Morang, eight in Sunsari, three in Sarlahi and Surkhet each and two in Bara and Dang each.
Similarly, seven people died in Rautahat floods and landslides, two in Bardiya, one in Dhanusha, Makawanpur, Kailai and Palpa districts each.
Jhapa, Morang Sunsari, Sapttari, Siraha, Sarlahi, Rautahat, Banke, Bardiya and Dang districts were the worst affected by flood.
Some 35,843 houses have been inundated, 1,000 houses are damaged and 397 livestock died in the floods, the ministry data said.
Many cities in the Tarai region have been inundated while transportation along the East West Highway has been halted after a pillar of Dudhaura Bridge sank at Pathlaiya-Nijgadh road section. (With inputs from agencies)