26/11 attacks anniversary: Officer who helped plant Indian SIM cards in LeT reveals how response unfolded
Updated on Nov 26, 2018 11:17 AM IST
26/11 Mumbai attacks: A senior intelligence official who helped plant Indian SIM cards with LeT in Pakistan has revealed how one of those numbers being used in the attacks enabled counterterror operatives gather real-time details about the strategy of handlers and frame their response.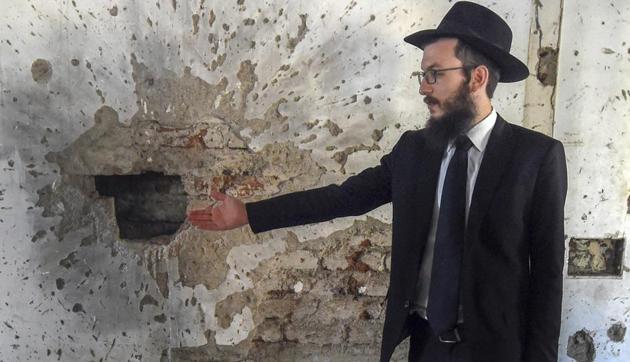 A senior intelligence official who helped plant Indian SIM cards with the Lashkar-e-Taiba (LeT) in Pakistan has revealed how one of those numbers being used in the 26/11 Mumbai terror attacks enabled counterterror operatives gather real-time details about the strategy of the terrorist handlers and frame their response.
Speaking in detail for the first time ahead of the 10th anniversary of the attacks, Divya Prakash Sinha, who was heading the operations wing of the Intelligence Bureau (IB), gave details of the happenings in the run-up to 26/11, during the attacks, and in the investigation that followed the killing of 166 people.
The 1979-batch Indian Police Service officer told Hindustan Times he was at home at around 9.15pm on November 26, 2008 when he got a call from the then IB director about firing in Mumbai.
"As I was talking to the director, I got another call from my deputy, who said it looks there is some fidayeen attack happening in Mumbai. He had listened to some calls intercepted in IB's control room. I immediately informed the director that there is a possibility that the incident of firing in Mumbai might be a suicide attack and rushed to the office," Sinha said.
"In my secure control room, my officers put me on to the intercepted call on the speaker phone. We could hear a person screaming, 'Bata tu kya wazir hai? (tell us, are you a minister?)' …the person replied, 'no no, I am a school teacher'… Then someone on the other line said, 'kill him, he is lying, a schoolmaster cannot stay in room with a rent of ₹20,000'. They were talking in Urdu mixed with Punjabi," Sinha added.
He asked his officers if they were monitoring a Pakistani number, to which they replied, that it was an Indian number which has just become active.
"I asked, 'who recommended its monitoring?' A record is kept of all numbers put on surveillance and also the name of officer and agency who recommended the surveillance. I was told that the number was put on surveillance on the recommendation of joint director (operations). My first reaction was that my predecessor recommended it. But the officer said, it was I who had recommended it. Then I remembered everything," Sinha said.
Sinha explained that a senior Jammu and Kashmir police official, SM Sahai, planned the operation to provide SIM cards to LeT in the hope that they could be used for counter-intelligence.
"A pack of 30 prepaid SIM cards was being sent to Pakistan through a Lashkar agent. It was hoped that if Lashkar armed its operatives with these SIM cards, and they were already on surveillance by Indian agencies, security officials will get to know before these operatives could plan a strike," Sinha said.
The then Srinagar IB chief Arun Chaudhary, a 1977-batch IPS officer who retired in 2014, confirmed that he had shared information about this "deep penetration operation" with Sinha since he was heading the operations wing of IB. "When I got to know about it, I thought, let us also send some SIM cards brought from different parts of India. So I sent three SIM cards to SM Sahai that we could monitor," Sinha said.
"It was one of three cards that got activated in Mumbai, and was being used by a terrorist who had reached the Taj. As soon as the attack started, it was due to this SIM card that we knew exactly what was happening in Mumbai, and it helped us formulate our response to the attack."
Sinha remembers asking his officials who the 'B' party was – the person on the other side who was talking to the people in Mumbai. "BSNL [Bharat Sanchar Nigam Limited] told us the 'B' party was an American virtual number. So we used the number to find out how many calls were originating from it. There were three or four calls originating from the same virtual Voice-over-Internet-Protocol (VoIP) number that we got to know later was established in the Karachi control room of the Lashkar," he said.
The IB started listening to all of them, and through it learnt that there were five teams of two terrorists each, and that two teams were sent to the Taj hotel. "When the terrorists threw the phone after its battery went off, and started using phones of victims, we continued to intercept since all the new calls also originated from the same VoIP number," Sinha said.
The officer spent most of the next two days coordinating with the Mumbai police and the home ministry officials, informing them what was being heard on the intercepted calls. On the morning of November 27, he, along with his seniors in IB and National Security Advisor MK Narayanan, went to then prime minister Manmohan Singh to brief him how the attack was being handled from Pakistan.
Sinha, who retired in 2015 as India's secretary (security), is one of the Information Commissioners in transparency watchdog Central Information Commission.
He said that In the months preceding the 26/11 attacks, US counterterror officials in their backchannel meetings with their Indian counterparts spoke at least four times about LeT's "interest" in places in Mumbai such as the Taj Mahal Palace hotel, Bhabha Atomic Research Centre and the Shiv Sena headquarters, but did not talk about any attack being planned. Sinha, who participated in these meetings, said he felt the Americans may have had more knowledge about the attacks.
"Between May and September 2008, the US counterterror officials provided us four inputs where they said Lashkar has shown interest in Taj Hotel and other places in Mumbai. But they never went beyond bits and pieces of information. In hindsight, following the arrest of David Coleman Headley, I believe the US counterterror officials knew much more about the 26/11 plan as Headley was neck deep into it. But they didn't share full contours of the plan," Sinha said.
"In my understanding, Headley was on the payroll of the US intelligence agencies. The Americans started using Headley after the 9/11 attacks when they felt they need people on the ground for gathering intelligence on the Pakistani terrorist groups to see whether any attack was being planned against them," Sinha said.
Sinha added that after September, the Americans shared more inputs with the Indian counter terror officials about an impending Lashkar attack on Mumbai which were probably based on technical intelligence they picked up in Pakistan and it talked about possibility of sea route being taken by them to reach Mumbai.
As a follow-up to what the Americans shared with the Indian counterterror officials between May and September, Sinha flew down to Mumbai and had a series of meetings with the Mumbai police's then Anti-Terrorist Squad chief Hemant Karkare (who died in the 26/11 Mumbai attacks).
"Karkare sat with security officials at Taj and also sensitised the local police. On his instructions, a police vehicle was placed near Taj too. But in the end all the measures turned out be inadequate when the terrorists reached Mumbai," said Sinha.
The US picked up Headley in October 2009 after he got involved with the al-Qaeda and started preparing an attack on the Danish newspaper Jyllands-Posten. The paper courted controversy in 2005 after it published a series of cartoons considered offensive by some Muslims.
After Headley's arrest in the US, the Indian government sent Sinha to the US to get first-hand knowledge of the information gathered from him.
Personalise your news feed. Follow trending topics