'They called me Kasab ki beti': 9-year-old shot during 26/11 Mumbai attacks recounts horror
Updated on Nov 25, 2018 08:57 AM IST
As a 9-year-old, Devika Rotawan identified Ajmal Kasab in court as the attacker who shot her during the 26/11 Mumbai attacks. But what made her famous also brought her untold misery.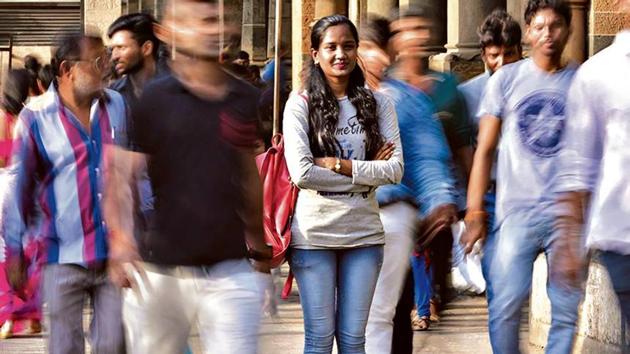 Hindustan Times, Mumbai |
Megha Sood
In the summer of 2009, Devika Natwarlal Rotawan couldn't wait to get back to school.
The nine-year-old girl had spent the past few months recuperating from an injury after being shot in the leg by terrorist Ajmal Kasab during the siege of the Chhatrapati Shivaji Terminus on November 26, 2008. She then shot into nationwide fame after public prosecutor Ujjwal Nikam sprang a surprise and got Rotawan to testify in court and identify Kasab, the only attacker captured alive; visuals of her walking in crutches into court were beamed into millions of homes, making her an overnight celebrity.
In school, however, there was no adulation. On her first day back, Rotawan found that she had no friends left, her classmates were either distant or frosty. "I was called Kasab ki beti (Kasab's daughter). I used to run home crying because the girls used to tease me and did not want to play with me," said Rotawan.
Rotawan had to eventually leave the school. But adjusting into a new institution was also not easy, she said, because many were scared to be associated with someone who identified a terrorist. One school denied her admission, saying her English was not fluent.
By then, her relatives and neighbours had also started distancing themselves, fearing possible reprisals by other terrorist groups. On top of that, the family received regular threat calls till the trial ended, added Rotawan's father Natwarlal."But that did not scare us a bit…I was depressed but that did not break me," she added.
Today, Rotawan is a steely 19-year-old woman who shares a tiny 12 feet by 12 feet room in Bandra (east) with her father, who makes ends meet by doing odd jobs as a labourer, and the younger of her two brothers who is unemployed. A single bed, which takes up most of the space in the room, is next to a small old television and a few utensils.
As her mid-term exams for Class 11 approach, Rotawan appears quietly determined. Her aim is to become an Indian Police Service officer and she says she is happy to have seen Kasab hanged, but that more needs to be done.
"I knew he deserved to die but I think the government should take a stern step towards eliminating terrorism. I want to be the one to bring peace in the society. Kasab was just a small fish. I want to clean the entire ocean. "Instead of killing a terrorist, terrorism should be uprooted," she said.
On November 26, 2008, Rotawan was on her way with her father and brother to see her elder brother, who worked in Pune. "We were waiting on the platform when I heard a sound like firecrackers bursting. People began running. My brother had gone to the bathroom when the gunmen came charging into the station. My father told me to run and when I started, I felt a shooting pain. I had been shot in the right leg. Blood began flowing and within seconds I collapsed," Rotawan recalled.
Rotawan's father, Natwarlal, had initially not agreed to let his daughter testify but later changed his mind. "For two months after the attack I was in JJ hospital, and was operated on several times. The police asked questions but my father did not want me to depose in court then. However, later on, he supported and motivated me," she said.
"Ujjwal Nikam sir looked at me as I stood there knowing that I was face to face with the monster who wanted to kill me. When I was asked to tell the court who shot me, I raised my hand and pointed towards Kasab who stood there expressionless," Rotawan added.
The testimony made her a household name but no help was forthcoming for either her or her family. "Everyone met me and praised me, but no one helped me. We are still struggling to survive," she said. In the last decade, she has spoken to numerous television channels and is now fluent in a crisp narration of her story, but no one has come forward to even finance her studies. "We were promised a house but nothing has been done till date," added Natwarlal.
The attacks left an impression on Rotawan's younger brother Jayesh too. "Since my mother passed away, and after seeing my sister almost dying at CST, I have not been the same. I try to control my feelings by joking around and entertaining Devika," said Jayesh.
But adversity has not broken Rotawan. She passes by CST on her regular commute and said she sometimes goes to the spot where she was shot. "I stand there and close my eyes and feel as if I have travelled back in time to relive the moment. I feel I am standing there still and the world is moving in a fast forward mode. It is scary but it reminds me of the promise I have made to myself," she said.
And what is that promise? "I want to provide a good future to my father and brother and to my country. I want to be an IPS officer and fight terrorism and bring justice to all those who have suffered like me and my baba.
Personalise your news feed. Follow trending topics