3 minors among 5 detained for attack on Swiss couple at Fatehpur Sikri
External affairs minister Sushma Swaraj sought a report over the incident from the Uttar Pradesh government.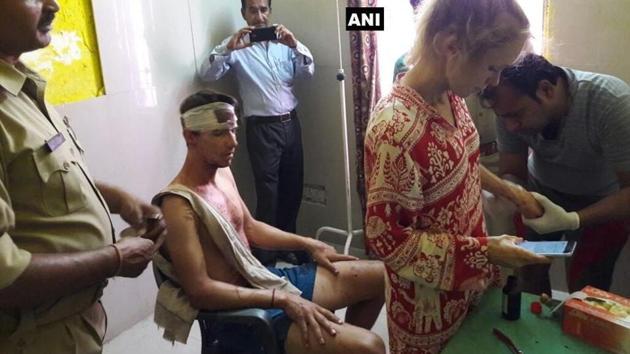 Updated on Oct 27, 2017 10:39 AM IST
Hindustan Times, Agra/Lucknow |
HT Correspondents
Police on Thursday detained five people, including three minors, for allegedly assaulting a Swiss couple at Fatehpur Sikri near Agra, an incident that raised serious concerns over security of foreign tourists in India.
The attack with stones and sticks, allegedly by a group of people on Wednesday, left Quentin Jeremy Clerc (24) with a fractured skull and with the risk of permanent hearing impairment. His girlfriend, Marie Droz (24), had a broken arm, besides bruises.
They were shifted to the Indraprastha Apollo Hospitals in Delhi.
External affairs minister Sushma Swaraj, who sought a report over the incident from the Uttar Pradesh government, said on Thursday evening that Droz has been discharged from hospital while Clerc's condition was improving.
"We are monitoring his progress in the hospital," she said in a series of tweets.
Indian ambassador-designate to Switzerland, CB George, and MEA joint secretary, S Bhattacharjee, also met the Lausanne-based couple at the hospital, she added. The couple had arrived in India on September 30.
"The man had severe head injuries and was moved to an intensive care unit as soon as he arrived here," said Rajendra Prasad, a neurosurgeon who is leading the team of doctors treating Clerc at the IAH.
"He is having a hearing problem otherwise he is conscious and talking," said Prasad, adding it is difficult to say at this stage whether he has suffered permanent hearing damage.
Uttar Pradesh chief minister Yogi Adityanath, who visited the Taj Mahal on Thursday, said those responsible would be dealt with "sternly".
UP director general of police, Sulkhan Singh, said five people were involved in the assault on the couple at the Unesco World Heritage Site built by Mughal emperor Shah Jahan in the 17th century.
While one of the minors was held at the border with Rajasthan late on Wednesday night, two others were detained on Thursday in Fatehpur Sikri, about 40 km from Agra. The two adults were held on Thursday.
They will be produced in the local court on Friday.
Fatehpur Sikri police station in-charge Pradeep Kumar said Clerc and Droz were walking along a railway track when the group of boys –between 12 and 14 years of age – began following them.
It started as alleged attempts to take selfies with Droz, and soon turned into a full-blown assault. The two were taken to a local health centre before being shifted to AIIMS.
"They initially did not want to file a complaint. The police had to make out a case on their own," said Kumar.
Despite not being as popular as the Taj Mahal, Fatehpur Sikri – 40 km from Agra– gets its fair share of visitors.
"Such incidents will scare tourists away at a time when there is already so much controversy around the Taj. Hopefully, Yogiji will do something about it," a tourist operator said.
In 2014, a German woman was allegedly molested by a hotel manager at Agra. Two Japanese tourists were gang-raped in the historical city in 2007.
The Swiss embassy website warns tourists of high levels of crime in India, particularly in popular tourists spots such as Agra.
India's tourism minister KJ Alphons expressed concern over the attack and urged Adityanath to take "speedy action" to apprehend the perpetrators.
"Such incidents negatively impact our image and are detrimental to our efforts in promoting India as a tourism destination," Alphons said in a statement.
The incident is being seen as was a potential blow to India's hopes of drawing more tourists to the country, which had 8.8 million foreign visitors last year, according to official data.
(With agency inputs)
Close Story
Personalise your news feed. Follow trending topics