Attack on Swiss couple leaves them with broken bones; Sushma seeks report
The Centre took stock in the wake of the incident and sought a report from the Uttar Pradesh government.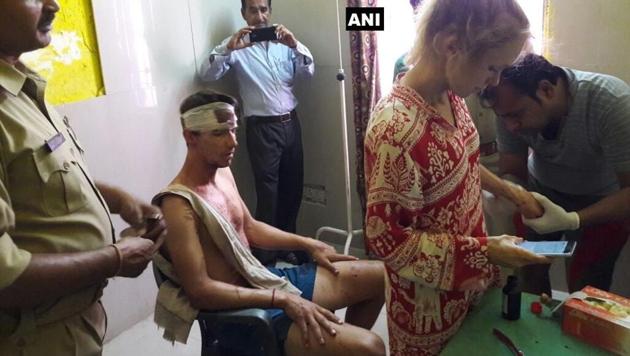 Updated on Oct 26, 2017 08:12 PM IST
Police have arrested a boy in connection with an alleged attack on a Swiss couple at Fatehpur Sikri, 40 km from Agra, on Sunday afternoon. The minor, who was taken into custody on Wednesday night, is said to be the brother of the main accused.
The Swiss couple – Quentin Jeremy Clerc and his girlfriend Marie Droz (both 24) – was chased by a group of four local boys, and hit with sticks and stones. While Clerc suffered skull fracture and nerve damage, Droz was left nursing a number of broken bones.
External affairs minister Sushma Swaraj said she has sought a report from the state government, and a team of officials soon visited the Lausanne-based couple at AIIMS hospital in Delhi. The incident, understandably, has raised questions about the safety of foreign tourists in the country.
"The Embassy of Switzerland in New Delhi confirms that two Swiss citizens were attacked in India," the Embassy said in a statement, adding, "In the framework of consular protection services, the Embassy is providing support to them. For reasons of privacy and data protection, the Embassy cannot communicate any further information in this regard."
"Such incidents will scare tourists away at a time when there is already so much controversy around the Taj. Hopefully, Yogiji will do something about it," a tourist operator said.
Additional director general (crime) Chandra Prakash said they were on the lookout for the other three suspects. "An FIR has been registered at the Fatehpur Sikri police station, and an investigation is on. We have formed several teams to arrest the remaining suspects," he said, adding that the minor was arrested on the Uttar Pradesh-Rajasthan border.
Prakash said action would be taken against Fatehpur Sikri police officers for not alerting their superiors to the assault. Senior officials reportedly came to know about the incident from media reports.
Fatehpur Sikri police station in-charge Pradeep Kumar said Clerc and Droz were walking along a railway track when the group of four boys – all between 12 and 14 years of age – began following them. It started as alleged attempts to take selfies with Droz, and soon turned into a full-blown assault. The two were taken to a local health centre before being shifted to AIIMS. "They initially did not want to file a complaint. The police had to make out a case on their own," said Kumar.
The minor's arrest came hours before chief minister Yogi Adityanath reached Agra to visit the Taj Mahal. He and a few others in his cabinet had come under fire a few days ago for reportedly undermining the significance of the Mughal monument, which happens to be one of the most popular tourist destinations in the country and a major money-spinner.
Despite not being as popular as the Taj, Fatehpur Sikri – which was the capital of the Mughal empire between 1572 and 1585 – gets its fair share of visitors. The region is no stranger to tourism-related crimes either. A German woman was allegedly molested by a hotel manager at Agra in 2014. Two Japanese tourists were gang-raped in the historical city in 2007.
Close Story