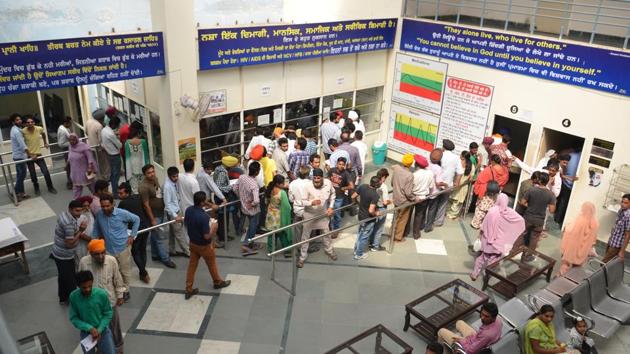 Medical colleges: 352 vacant super speciality seats cost exchequer Rs 200 crore
Senior doctors say that the cost of infrastructure, faculty, equipment, among others, makes super speciality teaching very expensive.
UPDATED ON NOV 20, 2017 12:01 PM IST
There were no takers for 352 super speciality medical seats in private and government medical colleges after the third round of centralised counselling by the Directorate General of Health Services (DGHS). There were 1,850 seats available for super speciality courses and the vacancies are estimated to have caused a loss of over Rs 200 crore.
Out of 352, 180 seats are vacant in government medical colleges. Cardiovascular and thoracic surgery has the highest vacancy, at 35.
Senior doctors say that the cost of infrastructure, faculty, equipment, among others, makes super speciality teaching very expensive. They say that average expenses for a seat add up to Rs 40 lakh to 75 lakh for three years depending on the various branches of medical studies. The most expensive among them is cardiovascular.
"The overall financial loss will be over Rs 200 crore to both private colleges and the public exchequer," said Prof Dr PSN Murthy, principal, Dr Pinnamaneni Siddhartha Institute of Medical Sciences, Andhra Pradesh.
He further said, "Government colleges subsidise fee as they cover their expenses from taxpayers' money. So, vacant seats amount to wasting peoples' money."
Dr Kailash Sharma, director (academics), Tata Memorial Centre, Mumbai, agreed and said that unreasonable admission conditions by various states were one of the main reasons behind the vacancies.
He said, "Government colleges in different states ask students to sign bonds to serve in their hospitals for a minimum of three years and a maximum of 10 years after finishing the course. For instance, Tamil Nadu wants a candidate to work in the state for 10 years; only then a candidate can get admission in the state government colleges. It is unfair."
State governments argue that they provide subsidised medical education and students can pay back by offering their professional service to the state.
Dr Sharma said that the counselling process was also disrupted due to litigation. "I think one last mop-up round should be held to fill as many seats as possible," he said.
HT had earlier reported that over a 100 seats fell vacant after the third round of counselling as candidates allegedly blocked them by opting for admission during counselling and not turning up to colleges later for admission.
"Students who blocked seats in government colleges caused great damage to others who deserved these seats. Seat blocking forced them to take admission in private colleges, whose fee are 10-15 higher than the government college fees," said a student, requesting anonymity.
Close