50% of the poor receiving doles are yet to link Aadhaar
Nov 11, 2018 09:59 AM IST
On November 1, Union rural development secretary Amarjeet Sinha wrote to all states that "out of the 2.84 crore registered beneficiaries of NSAP, Aadhaar seeding in respect of 1.92 crore has been completed and out of these seeded Aadhaar numbers, 1.02 crore beneficiaries are such in whose cases Aadhaar entries have been verified."
More than half the poorest of India's poor, entitled to monthly doles, have not had their Aadhaar details verified with the authorities, prompting the Centre to push the states to bridge the gap in a "mission mode".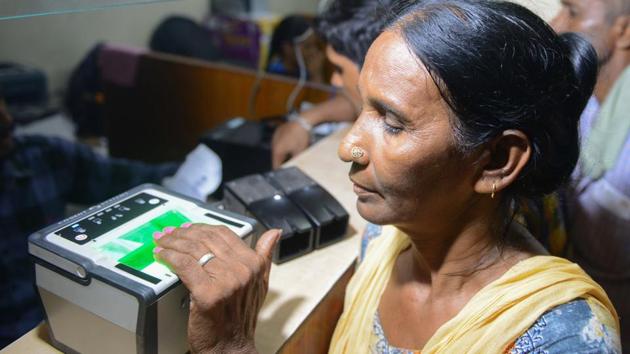 The Centre acted in line with the September judgment of the Supreme Court that allowed the government to make the 12-digit unique identity number mandatory for accessing government subsidies and welfare schemes, while ordering that it could not make it a condition for operating bank accounts or buying mobile phone connections.
The National Social Assistance Programme (NSAP) is targeted at the old, widowed, disabled and pregnant members of poor households. Officials argue that seeding of Aadhaar with bank or post office savings accounts and biometric details, and getting them verified by state governments makes it easier for people to receive payments.
On November 1, Union rural development secretary Amarjeet Sinha wrote to states that "out of the 2.84 crore registered beneficiaries of NSAP, Aadhaar seeding in respect of 1.92 crore has been completed and out of these seeded Aadhaar numbers, 1.02 crore beneficiaries are such in whose cases Aadhaar entries have been verified."
"The ... gap between total number of beneficiaries and beneficiaries with verified Aadhaar number is huge and needs special efforts from your end," the letter to social welfare secretaries in the states, a copy of which has been seen by Hindustan Times, said.
The rural development ministry, which anchors several social schemes including the NSAP, has been using the unique identity, clubbed with the Socio-Economic Caste Census data, to identify beneficiaries and transfer the money to their accounts, bypassing possible routes of leakage.
NSEP includes the National Old Age Pension Scheme for the destitute aged above 65 years; a disability pension grant to a bereaved household upon death of the "primary breadwinner"; and the National Maternity Benefit Scheme of monetary help to women during pregnancy.
Sinha asked the states to complete the verification exercise "without any further delay." He also underlined that to address the potential failure of Aadhaar-based authentication, "alternative methods for identifying such persons shall be adopted after finding the causes of failure."
Economist Ritika Khera said the use of Aadhaar in NSAP was a "terrible idea" that may lead to exclusion and other problems for the beneficiaries. "In an Aadhaar-based system, no one else can withdraw money in a recipient's account. And the rate of biometric failures is very high among old people. There is zero added value in Aadhaar," she said.
Khera emphasised that some states send money via the age-old post office money order system or hand it over at monthly panchayat meetings. "When you are dealing with old, fragile people with mobility issues, then sometimes technology can't give the best results. Some states are doing very well in traditional methods of money transfers in NSAP. What we need is creating awareness about their entitlements," she said.
Sinha, however, maintained that the government has the means to hand over money to poor, disabled people at their bedside.
He said meetings had been held with the Reserve Bank of India and the Union finance ministry so that women self-help groups can be appointed as banking correspondents to deliver money to beneficiaries in their villages.
"The biggest challenge for any financial inclusion is last-mile connectivity. In places where banks are not available already 3,000 SHG women have been trained to be bank correspondence. Another 2,500 SHGs will be added soon. By end of this financial year, there would be 15,000 to 20,000 women groups working as banking correspondence and earning ₹8,000 to 10,000 per month," said Sinha.